Have you ever had the thought, "Wouldn't it be great if we didn't have to pay rent or have a mortgage?" In what kind of life would that ever be possible? After making our decision to full-time RV we quickly discovered that you can 100% live rent/mortgage free. How? It's called Workamping.
Workamping is a phrase coined by Workamper News in the United States. Basically, Workamping is an exchange of your services (usually 20 hours per week) in exchange for a full hookup RV site. This would mean between Adam & I could split 20 hours of work at the campground each week and have our full hookup site at a campground for FREE!
One of the reasons we really fell in love with the idea of living the full-time RV lifestyle was because we knew it would be affordable in comparison to our lives at the time. We had read some other full-time RV blogs where they shared their monthly expenses. We then made up our own spreadsheet to estimate how much our expenses would be per month. Our results showed that it would probably be close to half of what our normal monthly costs were. One of the big factors in the significant savings was because we were committed to no longer having to pay rent. At our last home, we were paying $850 for rent per month, plus utilities including electricity, satellite, and our internet. Our monthly costs were well over a $1000 each month.
We were very excited to learn that we could essentially save a huge chunk of money every month. This meant that we could use our savings for some really fun experiences. It also meant that we wouldn't have to commit to jobs that forced us to work 40+ hours a week. We could easily trim back our weekly work schedule to 30 hours or less leaving plenty of time to spend with each other and the pets.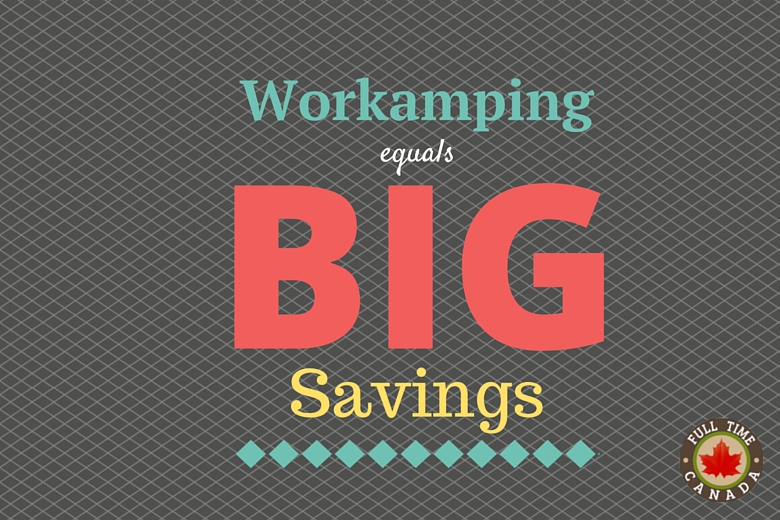 Workamping is very popular in the US. A lot of campgrounds and even State and National Parks offer Workamping opportunities for full-time RVers. However, the situation is much different here in Canada. In the Maritimes, there are maybe only about a handful of campgrounds that offer Workamping. We figured that it's because the camping season is so short in Canada compared to the US meaning a lot of campgrounds have yet to catch on to Workamping. It's also possible, that because of the shorter camping season, a lot of campgrounds don't want to give up a spot to Workampers when they could fill that spot with multiple paying guests in a month. In the United States, there are over a million full-time RVers and more than half are doing some sort of Workamping.
Once we decided that we wanted to begin our full-time RV life in Prince Edward Island, we scoured the internet to see if any were or had previously hired Workampers. Naturally, we found none, which left us a little deflated but not totally discouraged. We figured that if campgrounds on PEI weren't offering Workamping, that we would offer Workamping to the campgrounds. Both Adam & I searched for campgrounds in PEI and made up lists for campgrounds that we assumed would be great for the full-time RV lifestyle. We then discussed each other's lists and eliminated some campgrounds leaving 8 campgrounds that we would reach out to.
How We Applied
It was February when we decided to reach out and because the Island was blanketed with snow at that point, we realized the best way at that moment was to contact the parks directly via email and then follow up by telephone within a couple of weeks.
In our emails, we included a photo of ourselves and our dog and we explained our goals with fulltimecanada.ca. We also sent formal resumes with references. Our goal was to let the RV Parks know that:
we are hardworking
we want to help their business through promotion on fulltimecanada.ca
we wanted to promote camping tourism in Prince Edward Island and Canada
Who Responded?
Out of the 8 applications to RV Parks, we had 4 responses. We thought that was pretty good. Technically we had 6 but one was a "we're sorry we have our staff already this year, however, try us next year," and we had one "we're sorry but we don't offer Workamping." We were in talks with 4 different RV parks, and that is pretty cool. We then had to sit down and look at what each had to offer.
The Partnership
Here is what we were offered…
Campground A. At this campground we would have an evening washroom cleaning shift in return for site/utilities. They said in total it probably wouldn't be more than an hour a night, which meant only a 7-hour weekly commitment in exchange for a full hookup site.
Campground B. This campground offered us overnight security jobs in return for a full hook up site. Not once did this seem like something Adam or I would want to do. Having to tell campers to stop having fun is not a job we wanted to do, especially with an overnight shift. Thanks, but no thanks.
Campground C. This campground started to talk to us about some opportunities but then disappeared, never to be heard from again.
Campground D. Here we were offered 20 hours of work per week, split however we pleased, in return for a full hookup site. They said that the hours could be flexible to work around our current work schedules, which was nice. In addition to doing work around the park, we offered to promote the park on our site as well as on social media.
Our First Workamping Job!
After discussing the options with each other, we each picked our clear winner. We decided to go with Campground D! Yogi Bear's Jellystone Park in Borden-Carleton!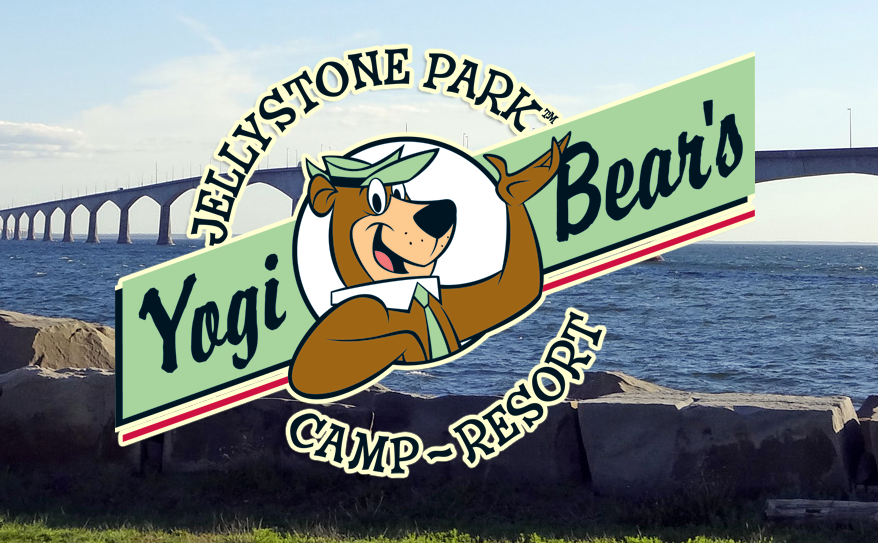 What it really boiled down to was Rachel and Jason DeCourcey. When we talked to them on the phone, we knew they would be able to teach us a lot in our first Workamping positions. They are fellow full-time RV'ers so we knew that they would be able to offer us plenty of experience and wisdom in regards to the full-time RV lifestyle. The RV park is fantastic and we know we are going to have so much fun.
If you ever decide to embrace the full-time RV lifestyle yourself and wish to give Workamping a shot, here are some tips we'd like to pass on.
1 . Email the park you want to Workamp for. The worst they can say is "no". Try to be as friendly, open and honest in your initial email. Put it all out there and wait for the reply.
2. Include a list of your skills along with your resume. Try to think outside the box and include what skills you think would be valuable when Workamping at the campground of your choice. Working in radio for 30 combined years gave us lots of skills, but most were not usable at an RV park, however, we were able to use some like our social media skills.
3. If you don't get a response from the campground – call them. We had some of our emails not go to the right person. We found that follow-up call usually resulted in us talking to the manager.
4. Try to offer something unique. We realized that having this website along with our social media platforms would be something that we could propose to campgrounds to really get their interest. We figured it would be harder for some campgrounds to turn us down after we offered a lot of promotion. That something unique that you offer could also put you ahead of other Workampers that want that spot at the campground but having nothing unique to offer the campground.
5. Once you come to a Workamping agreement with an RV park, make sure you confirm what is expected of you. This includes:
how many hours per work you are expected to work
how many hours per work you are expected to work each week/month
what duties you are expected to perform
any additional fees that may previously not have been discussed
6. Don't take advantage of your hosts. Your campground hosts were kind enough to offer you a spot at their busy campground, so make sure you live up to your end of the agreement and always act friendly & professional.
Ideally, as a way of protecting yourself, it would be wise to get a written agreement outlining all of the details of your agreement.
Even though the process took us a couple of months, we were very happy to secure our relationship with Yogi Bear's Jellystone Park. We feel really comfortable with our choice and know that it's going to be a fantastic summer on PEI.
If you ever do decide to camp on PEI (highly recommended), check out Jellystone Park in Borden-Carleton. It's the closest park to the Confederation Bridge and is extremely family friendly. Plus, the park backs right onto the Confederation Trail which is perfect for running, walking or biking. If you do decide to come this summer, send us a message. We'd love to meet you!
***Update – March 2017***
Nearing the completion of our workamping gig at Jellystone PEI, we were on the search for a new workamping position as we were planning on heading to Vancouver Island for the winter. We approached the process similarly to when we were searching for workamping jobs in PEI. We sent out cold emails to a handful of campgrounds and sat and waited for a response.
We had some conversations with a couple of campgrounds that were definitely interested in having us workamp for them but in the end we chose Crystal Cove Beach Resort in Tofino. Similar to our agreement in PEI, we would be doing 20 hours of work in exchange for our campsite. In Tofino, this is a big deal as the costs of RV sites in and around the area are the highest we've seen. The main difference in our agreements with Jellystone PEI & Crystal Cove Beach Resort was the type of work that would be done.
In PEI, we primarily did basic campground maintenance where in Tofino, Crystal Cove Beach Resort had us come in to help with their online marketing – specifically social media. This was right up our alley as social media is something we have used a lot previously in radio and also with this website.
We learned that it's a good idea to list all of your skills, no matter what they are when applying for workamping jobs. You just never know what a campground might need help with.
Workamping Links
Workamper News | The leader in online postings for Workamping jobs, however, you must pay to post and see listings.
Happy Vagabonds | If you're a Canadian looking to Workamp, this seems to be the best available source for you online. There are plenty of listings, however, not all of them are RV related but often very similar.
RV.net Open Roads Forum | RV.net is a very popular site for RVers to ask/answer questions about RVing. They have a specific forum just for Workamping where you see position postings and ask any questions you may have.
KOA | One of the most popular campground chains in North America has fully embraced Workamping. They charge a $35 annual fee to be a part of their Workamping program but they do offer some very good incentives, especially if you regularly camp at KOA.
Workers On Wheels | If you're not open to having to pay to look for jobs on sites like Workamper News, this is the site for you. Workers On Wheels has a tremendous amount of job postings on their site, however, most are US based.
If you are a Workamper in Canada, let us know where you're Workamping and how you ended up with the job. Let us know of any tips you discovered when trying to find a Workamping job. Comment Below.