Want to know a little secret about Adam and me? Neither of us knew much about RV's when we decided to live the full-time RV lifestyle. I used to own an RV in a previous relationship but only used it 3-4 times. I've driven a motorhome in a parking lot and I had driven a truck once with a trailer being towed behind it. Believe it or not, at this point, I am the most experienced.
Adam has never slept in an RV nor has he driven a truck towing an RV. He did, however, drive from Ontario to PEI in a car while towing a tiny U-Haul Trailer.
So…yeah, we didn't have that much experience with RVs or towing. Together as a couple, we have done nothing in an RV. We have camped in a tent. That's it. Are you worried about us yet? So, how the heck were the two of us going to manage to purchase our first RV? Naturally, we did a lot of Googling to soak up as much information about RVing that we could. After a few days of reading, we figured it would be best to compile a wishlist of what we each wanted in our perfect RV. This is what we came up with…
Old or New?
With our wishlist complete, we now had to decide whether or not we would buy a new or used RV.
New RVs are beautiful! The new smell, the shine, the layouts are sleek and there are all kinds of cool gadgets. The decor is modern and there are beautiful lighting options. Don't forget the floors! Typically hardwood, laminate, durable carpet or really good vinyl flooring. Plus, it's nice to know that no one has slept in the beds. Another bonus with new RVs is that you can avoid colors like dusty rose, teal, burgundy and other late 90s and early 2000's colors. No offense to those who love dusty rose, teal or burgundy but they are not colors that Adam and I are crazy about.
One thing that we noticed as Adam and I looked at new RV's, is that we couldn't get over how they seemed to be a bit dated in the decor department. There are definitely some companies out there that keep up with the times, but there are a few out there that need to be brought into 2016! Décor aside, most new trailers are expensive and they should be – they're new. However, we didn't want to have a payment or deal with immediate depreciation on our RV. This meant that we pretty much had to rule out the possibility of purchasing a new RV.
If you're searching for an RV and know that you can't afford a new one, don't let the salesperson show you one – it's too easy to get sucked into how nice they are and next thing you know, you just purchased a $75,000 5th wheel.
Our Budget
Once we had figured out that we were going with a used RV, we had to set our budget. We had some savings but knew that we didn't want to use all of them or go over what we had. At first, we decided that our budget would be around $15,000. This would eliminate any loans and still allow us to do some redecorating. That amount of money would be extravagant for some, a pittance to others. For us, we knew that with that amount that we could get something that is clean and still have money to fix up the décor.
"What Type of Trailer Should We Get?"
Now knowing our budget, we could start looking at trailers online and start to compile a list of ones that interested us within or near our budget. As we started to look online, we had to decide what kind of trailer we wanted to get. There are quite a few options out there including travel trailer, 5th wheel, motorhome or a park model. At first, we thought we wanted a travel trailer but changed our minds and wanted a 5th wheel and then changed our minds back to a travel trailer. It was a lot of flip-flopping at first because we were so green and were still soaking up the knowledge. We really had to find something that would be perfect for driving across Canada.
A park model trailer was never really an option because we had always planned on going across Canada and while park trailers can travel, they are not built for frequent long distance travel. We liked how roomie they were, but they just weren't feasible for our plan. Motorhomes are expensive, and we didn't want to have to tow a car behind it. So motorhomes were out. We learned that 5th wheels are great for long distance travel. They offer more stability when traveling, but they are typically more expensive than travel trailers and you have to pay for the jack thingy in the back of your pickup truck. Travel trailers seemed like the best bang for our dollars compared to the other types of trailers and we could easily find one within our price range.
With all of this in mind, we had determined that we would get either a travel trailer or a 5th wheel. So, how did we narrow down our decision? Money – of course!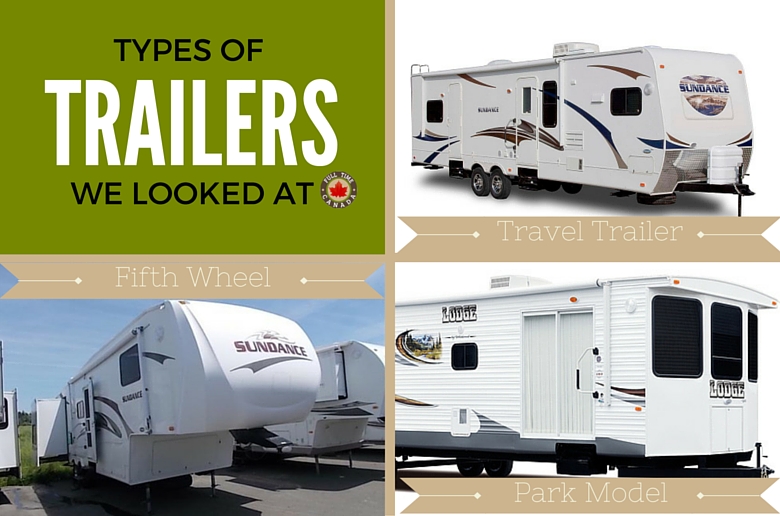 What We Found
We now needed to decide between a 5th wheel or a travel trailer. I know that so many people love 5th wheels. The ceilings are higher, there is more room with the bedroom typically over the pickup truck bed. However, at first, I wasn't a fan. I couldn't picture every day crouching down to get dressed, or if I stood right up, banging my head, and I'm not even the tall one in this family. Adam is almost 6'2! I also noticed that in some of the 5th wheels we looked at, that the storage isn't the best. Perhaps it was just the models we looked at, but I was leaning towards a travel trailer and so was Adam. The cost was more in our range and you got a lot for that money. I know that when we are driving, it wouldn't be as smooth as a 5th wheel, but for us, the fact this was going to be our home, I would rather choose a better living space for us, than something that is more "comfortable" to drive.
Private Sale vs. RV Store
We chose to go with an RV store for the simple reason that we wanted someone to be somewhat accountable and hopefully honest with us in the buying process. Buying privately scared us a bit, because who do you call if something goes wrong? Chances are you would not be calling that person to ask why a stove doesn't work. Although I am sure there are great folks out there that would help you.
The place you buy your RV from, new or used, if they are smart, they want you to come back when you decide you want to upgrade or downgrade and buy from them. They will have the resources to help you find a manufacturer of that stove. I'm not saying all RV Stores will bend over backward for you, but there are some out there that will because they want your future business or your recommendation to friends and family. We did not look at just one RV store. We were based near Fredericton, New Brunswick and we looked at RV stores in Fredericton, Hampton, and Moncton. There are around 3 in each area, some by the same name, but all have a different selection. We avoided one RV store in Moncton because the man on the phone was rude to me, so we didn't even consider it. He didn't seem to want our business or to work on a Saturday – so no sale for him.
RV Salesmen
"Never Trust a Salesman" is an old saying that still rings true today, or does it? Adam and I have worked with a lot of salespeople in our previous radio careers. You can quickly see who you can trust and who is willing to do anything to make a buck. To our benefit, I have also studied a lot about sales and how to be a good sales person. One of the best books I have read is The Accidental Salesperson by Chris Lytle
What it comes down to, just like anything in life, is the person and your instincts. You will meet salespeople that your inner voice says, "don't trust" and then there are those who are honest hardworking people that you trust right away. You know they want to make a sale, but they are willing to work with you to make the right sale so that you will come back for repeat business. The latter is the type of salesperson you want to find which can be difficult.
Types of RV Salesmen
Throughout the process of shopping for our RV, we determined that there were essentially 3 different types of RV sales people.
1. Mr./Mrs Unprofessional. This salesperson is the worst and it makes you wonder how they do make any sales at all. These salespeople typically bash the competition, try to talk you into going into debt with their easy financing, and refuses to budge on used trailer prices because they think you are stupid. They show you RV's that you wouldn't let a dog stay in. They will tell you what you read in RV forums is not true.
2. Mr./Mrs Experience. This salesperson preys on your inexperience and boasts non-stop about their experience selling RVs. Not to knock these types of sales people's experience, but to keep telling me how many RV's you have sold, and how many years you have been in the business, really meant nothing to us. We also found that they don't follow up with you. They don't really care so much about personally helping you because they are just too busy trying to make a commission.
3. Mr./Mrs Helpful. This was the ideal salesperson. They would ask us what we needed and not show us RVs out of our budget. They also would focus on helping us and patiently explained everything. We had a lot of questions when shopping for our future RV and we were really impressed with the sales people that would take the time to answer all of our questions.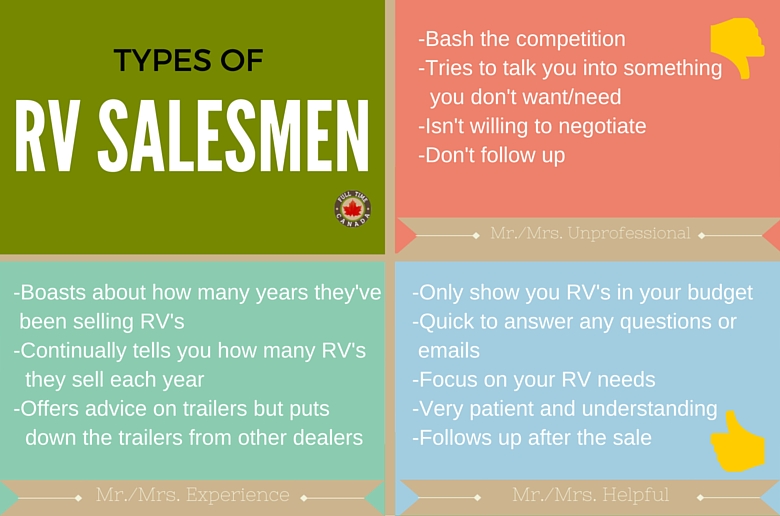 "Is this the one?"
After dealing with various RV sales people and looking at endless travel trailers we finally decided that it might be best if we got ourselves a 5th wheel. My mind was changed as soon as I stepped into a Heartland Sundance 5th wheel. It was 2007 32ft with three slides. It was beautiful and it had everything we needed. It was spacious inside and felt like it really could be home. We really, really liked it. The price was a bit high for our budget, but we were convinced that we could get the price down a bit and go home the owners of this beautiful 5th wheel.
Negotiating the 2007 Sundance RV
Negotiating can be scary. We reached out to the many Facebook groups that full-time RVers belong to, including Full-Time RVers. One of the members of this group, Jerry Minchey, sent us an article on negotiating that we found particularly helpful. We read that article and then we practiced.
A week after first looking at the Sundance, we went back to the RV dealership. They had brought it in from the cold Canadian winter for us so that we could look at it more in-depth and in more comfort. It was even more beautiful and comfortable than the first time we looked at it. It was in great condition and we could see ourselves living in it. It felt like home. We asked the salesperson to leave us alone for a while in it and I just sat there picturing Bella laying in the bedroom or the living room on her bed while snoring away. I envisioned Paris Frances looking out the big window at birds in the back. I could see Adam at his computer pretending to work but really, just looking at photography equipment that is on his wish list. I saw myself drinking tea and reading my book. We could live in here very easily.
From reading plenty of forums, the one area of concern for RV owners is the roof. A bad roof can cause leaking and leaking can cause all sorts of problems and expenses. So, I climbed on the roof and inspected it, even though you are not supposed to because of the dealerships insurance. There was an area around a vent where water had pooled. I was told this is normal which it is not. The roof was solid, it just had that one area that dipped by the air conditioner which caused the water to pool.
Let's Make A Deal
We were pretty much sold that this was the RV for us. Based on everything else we had seen, we were comfortable in knowing that it wasn't going to get much better than this. After our inspection, it was time to see if we could strike a deal.
We sat down in the salesperson's office and we made some small talk before moving onto negotiating. We felt confident we could get him to drop the price a bit. That was normal, right? He asked us what we thought about the trailer and we told him that we loved it and really could see ourselves living in it, however, the price – it was just a bit too high for us.
Much to our surprise he said he couldn't budge on the price. The salesperson had indicated that the price was already cut from $22,900 to $20,900 plus taxes and fees. All in, it would have been around $25,000. We needed to be around $20,000 but he wouldn't move on it. He kept feeding us the typical lines, "we've put so much money into this unit" or "this is a popular unit and it will sell within the month". The price wasn't moving, so we left. We had the money to buy at $20,000 or slightly above but there seemed to be an unwillingness to even discuss lowering the price and something just didn't feel right. After that meeting, again to our surprise, the sales person never followed up with us.
* Interesting note – as of April 2016, the 2007 Sundance RV is still for sale.
Moving On
We were sad to lose that trailer, but we had 2 others in mind. We were off to see a 2007 Montego Bay right after having our offered turned away on the Sundance. This Montego Bay had a great interior in the photos, but we were warned that it could have roof problems as when they were built it was done incorrectly. This was actually a warning that came from the salesperson who we dealt with on the 2007 Sundance. He said he'd bet his paycheque that the roof was or will be an issue on the Montego Bay because he used to sell them. We weren't sure if this was a sales tactic or he was being honest, but we would check the roof regardless.
When we looked at the interior of the Montego Bay, it was awful. If it was brand new, it would be beautiful. However, this unit was really well used and was likely a party machine for the previous owners. There were burn marks on the wall around the stove, the shower door had been broken and removed, the cupboards had dig marks on them and in one corner on the floor under the couch, there was mold. You could actually smell the mold which is hard to smell when everything is frozen, but we could still smell it. The final nail in the coffin is when I climbed up the back ladder on a snowy day and pushed down on the roof, it sounded and felt like Styrofoam. This is very bad as the roof should be solid. So, the Montego Bay was a no go.
We went home with no RV, after fully expecting to have purchased an RV. It was disappointing, to say the least. We began to wonder if we would we ever find the right RV for us? It was now February, and our adventure was set to start in May. We were getting nervous that we wouldn't find our home. Finally, though, it happened.
How We Found Our RV
It took 13 weeks of searching but it finally happened. Late one night, Adam was scouring the websites of the various RV dealerships around New Brunswick to see if we overlooked any. Turns out we did. He found a 2008 Heartland Sundance at Leisure Days RV in Moncton. This is the same dealership where we looked at the Montego Bay.
Our Experience At Leisure RV Moncton
On January 23, 2016, we first went into the 2008 Sundance, but it was -18 and the slides were frozen, so we couldn't really look at it fully.
When we decided we wanted to go back to look further at the Sundance, we asked them to hook it up so we could get a better feel for the RV. The dealership gladly obliged and when we arrived we spent a good hour inspecting the RV fully. It smelled so good and clean. When you look at used RVs, this is very important. If it smells like cat pee that means either a cat peed on the carpets or it had mold.
It was so clean and still had that new RV smell. It was nice and warm inside, despite it being -16 outside. The heat was absolutely pumping out of the vents. As our interest increased, we asked Corey Clarke our sales friend a billion questions which he gladly answered. Then I sat there and I pictured us living in this RV.
I know I have said previously that I could see us in different RV's, but I could see us being comfortable in this RV. Just as comfortable as the '07 Sundance. and on the plus side, it was a year newer. It also had a laundry shoot in the bedroom that went into the basement below, there were a lot of windows and most importantly, you could tell that it had been well taken care of by the previous owner.
The 2008 Sundance also had hookups for 3 televisions, though, we already decided that the spot for the tv in the main room would be used for storage. It had two couches that pull out into beds, there was a bunk in the back and a desk area. The closet in the bedroom was also huge. Oh, I forgot to mention that it has 3 slides too, so it had plenty of room for the 4 of us.
The Negotiations – Your Foot On My Foot is the "Signal"
Before we went into Leisure Days RV Moncton, Adam and I had agreed that at one point during the talks, I would put my foot on his foot and he would go to the bathroom. He would count to three and then leave. I would then put a little more heat on for a better deal.
In our negotiations, I was the bad cop. So, when we were told the final price taxes in was around $26,000, (with my heart hammering) I put my foot on Adam's and he left to go to the bathroom. I started talking and I said that we needed to have the price come down. I also started talking about Full Time Canada and how we could offer them some promotion on our website.
Adam came back and the negotiations continued. Finally, the General Manager came over and knocked the price down to what we could afford. I was never really a bad cop in the routine, I just pushed more. We laughed about our "signal" afterward as it did seem kind of silly. It was ridiculous, but if you don't know us by now, we are beyond ridiculous.
Here is something really interesting I found out in the negotiation process. I told Corey "I know this cuts into your commission" and he was completely honest with me, "At Leisure Days, we are paid a good salary and get a small commission on the RV's we sell. It's really about finding you a unit that will fit your needs" Now that was great to hear. Keep that in mind when you are shopping for an RV. If you have the courage, ask them if they are commission based sales. It could help you out in the end.
What A Relief
It took a lot of time and research, but finally, we had our RV purchased. It was paid for in cash, so we didn't have any payments to worry about. Most importantly, it meant the search was over. It was becoming very exhausting as we were spending many hours looking at RVs online and many more hours driving around to see them only to come up empty-handed. Once we finally purchased our RV we could move ahead with other projects we had to do like downsizing our home and getting Full Time Canada ready to launch.
Name Our RV
Now that we have our RV e need your help. We noticed that a lot of other full-time RVers have given a name to their RV. It only makes sense that we do the same, right?
I wanted to call our new 2008 Sundance Jean Chretien because it's tough, reliable and the taxes nearly killed us. Adam didn't like that name, though. Here are some others that we came up with…
Coco Bella's Caravan
Tommy – after Tom Thomson. Wouldn't it be great to have our RV painted like a Tom Thomson work of art? That's truly Canadian.
The Geddy Lee
Rita – after Rita MacNeil
It doesn't quite seem like we have a name nailed down yet, so, we are looking for suggestions. What do you think we should name our 2008 Sundance?
What do you think we should name our 2008 Sundance? Also, if you've purchased an RV before, what was your buying/negotiating process like? Comment Below.