As we say adios to 2016 and welcome in 2017, we're going to be exiting the honeymoon phase of our full-time RV lifestyle. Just like the honeymoon phase of a new relationship, new job, or heck even that shiny new gadget you got for Christmas, the initial excitement that we enjoyed when becoming full-time RVers in 2016 is bound to wear off in 2017. Or will it?
Part of the reason that we decided to choose full-time RVing as a lifestyle choice was because change would always be happening. I've always been a person who enjoys change. Whether it's the change of job or a change of scenery, I get excited for the unknowns of something new. With full-time RVing, the goal for us was to be seeing new places, meeting new people, and having new & fulfilling experiences.
While 2016 was an exciting year full of new places and experiences, I realized that it was just the beginning. Kate & I want to continue this lifestyle for a long time but to do so we have to constantly adjust our plan of how to make the lifestyle sustainable so that the shine never wears off.
Our 2016 Plan
The original plan to full-time RV was a simple one. We would live in certain areas for 3-6 months, work jobs in those areas to earn money, and then travel to a new location and do it all over again. There were two main points of thought behind this plan. First, we wanted to stay in certain areas for 3-6 months because that would allow us to immerse ourselves in an area rather than just being tourists. Second, it meant that we should be able to make enough money to allow us to travel around to some new places (like tourists) before settling on another temporary destination.
So how did that plan work? Pretty good, I think. We stuck to the plan and had a great year. We started full-time RVing at Jellystone PEI in May where we Workamped to pay for our site costs. We also both had jobs for most of the time we were in PEI that allowed us to live comfortably, while also saving up for our cross-Canada trip to Tofino, British Columbia in September. In mid-October, we arrived at Crystal Cove Beach Resort in Tofino, where again, I am Workamping to pay for our site costs.
The Downside to our 2016 Plan
It's hard to say there was much of a downside to our 2016 plan because we had so much fun in PEI & Tofino while also enjoying a 10,080km trip across Canada. However, I did recognize a small flaw in our plan. The idea of travelling to a new place and picking up any random job seems rather easy and for the most part, it is, but it's not ideal.
When we first arrived in PEI and in Tofino, Kate had to find jobs in both locations. She was pretty set on becoming a waitress. The thought was that her hourly wage combined with tips would allow her to make a comfortable living. In both PEI & Tofino, finding jobs took a bit of time, between 2-4 weeks. In PEI, it wasn't a big deal because I was working a good paying job that could sustain us both. In Tofino, though, aside from Workamping, neither of us was working when we first arrived.
After a couple of weeks in Tofino, although she had applied for many jobs, Kate was finding it difficult to land a job. This caused her stress and made her wonder if we should leave Tofino if she didn't land a job soon. Thankfully, she got a job at a great restaurant in town, working with some great people and we didn't have to leave Tofino.
Through both experiences, I realized that this was the flaw in our plan. The stress of finding jobs every time we move is not something I want either of us to go through. This lifestyle, while it has its share of challenges, is meant to be enjoyable and allow us to live a fulfilling life. I became afraid that the stress caused by finding new jobs in a foreign area every time we moved could wear off the lustre of this otherwise amazing lifestyle. This meant we needed to alter our plan.
How to make full-time RVing sustainable
One of the things you must do to succeed at something is to learn and adjust when necessary. It's fair to say that we learned our fair share about full-time RVing in 2016. Now that we've learned, we have to make some adjustments to our plan with the goal of making this lifestyle enjoyable but more importantly – sustainable.
Throughout the last 4 months of 2016, I've been trying to brainstorm ways to make our lifestyle more sustainable. In various full-time RVing Facebook groups, there are always people describing how they make a comfortable living to maintain their life on the road. Some RVers set up Etsy shops, others are virtual assistants, while others run their own businesses. With the internet (even if WiFi is a pain sometimes) there is no limit to what can be done from the comfort of our RV.
During those 4 months, I wrote down pages and pages of small business ideas that could allow me to bring in some cash but I never fell in love with any of them. This doesn't mean that I won't pursue them later, but for now they're just ideas in a notebook.
While I had pages of ideas in a notebook, Kate was the one who had the golden ticket idea sitting in the back of her mind.
Tofino – the Land of Opportunity
After living in the small town of Tofino for a couple of months, we both saw the potential for many business opportunities. The town has a small population of 2000 people but tourists have made this small town a bustling location almost year-round. This past summer, Tofino saw over 1-million tourists in just July & August. That's A LOT of people for such a small town. It also means there's a lot of potential for the right business idea.
When we arrived in Tofino, we saw various voids (aside from coffee & surf shops) that could be filled and supported by the amount of tourists making their way to the tiny surfing town.
The reason that Tofino still lacks in some touristy aspects is because it's still relatively a new tourist destination. Surfers have been coming here since the 1960's but only over the past 15 or so years has Tofino seen a jump in tourists. It's now a world-class resort town with great outdoor adventure, fantastic food, and stunning resorts. The crazy thing is that Tofino isn't even close to reaching its peak yet.
Recently, Travel & Leisure magazine named Tofino one of the top 50 destinations in the World for 2017. That's going to put the small town on the radar for a lot of people who didn't yet know about it. Parks Canada is also giving free entry to all national parks including the Pacific Rim National Park Reserve for all 2017 to celebrate Canada's 150th birthday. Thus, it's shaping up to be a busy year in Tofino.
Kate's Business Idea
Knowing the potential that lies here in Tofino, one day a few weeks ago, Kate hit me with her business idea. Instantly, I thought it was perfect and began to see the potential in her idea. To me, it was an idea with endless possibilities that would also make our full-time RV lifestyle more sustainable.
So, what is the idea? Well…I'm not going to tell you. I know, I know – what a tease. It's not that we don't want to tell you, it's just that spreading our idea online is a good way for someone else to snatch it up and possibly act on it quicker than us. It's leftover paranoia that we have from our days in radio where secret plans with non-disclosure agreements were common.
What I can tell you, though, is that it's exciting for us. We're still in the early stages of putting together a plan but everything will likely move quickly. There is, however, some outside variables that may not allow us to continue with this business idea. While we're hopeful that won't be the case, we must also be realistic that certain barriers could stand in our way. We don't think that will be the situation, but you never know.
To me, Kate's business idea was a great one because it has low start-up costs, low overhead, and can be managed from anywhere even though it will be a Tofino based business.
What We're Planning for 2017
Over the next couple of months, we'll be working hard to put this business plan in place. Our goal is to get everything as ready as soon as possible and launch the business somewhere around May. There are still a lot of unknowns that we must look into but this is what we'll be working towards.
The business plan will also have us staying in Tofino throughout the duration of the summer. Originally, we were going to be in Tofino from October through the end of April before moving on to somewhere new. Instead, we'll be able to enjoy the hustle & bustle of the busy tourist season in Tofino while also having a great summer in a stunning location.
By the end of September, our hopes are that the business will have had a successful summer. By that time, it's our goal to have built a solid foundation for sustaining the business in the future before we move on.
What If The Business Fails?
8 out of 10 businesses that are launched are destined to fail. It's not comforting to know that, but it's fact. Knowing that, we're hopeful that based on the low start-up and overhead costs associated with our business idea, that even if the business fails, it's not going to cost us a lot of money. We're also hopeful that because of the low costs, the business should be profitable. Even still, it could fail and if it does, we're not going to be down about it. We can always fall back on the plan we had in 2016 where we move somewhere else and find jobs while working towards another idea. It won't be ideal, but we'll still be travelling and enjoying new experiences which is better than our previous 9 to 5 lifestyle.
…And If The Business Succeeds?
If we're able to launch this business and see it become successful, we'll be incredibly happy. It will mean that we can more comfortably enjoy the full-time RV lifestyle. It also means that our travel plans can be more flexible because the business will allow us to have a certain amount of passive income while on the road.
If the business is successful, by the time the fall of 2017 rolls around we should be on the move. Because we're likely to be cemented in Tofino for most of the year up to that point, we'll be ready to explore. My goal is that we'll be able to spend 2-3 weeks exploring the rest of Vancouver Island, from Port Hardy to Courtenay to Victoria. We'd like to see as much of the Island as possible.
After that, who knows? We have the thought that with the business being successful, we should have enough money to allow us to travel south and enjoy 4 to 5 months somewhere warm in the U.S.
Bring On 2017
We've got a plan for 2017, now we must follow through on it. Like 2016, 2017 is going to be an interesting year filled with adventure and learning opportunities. This is both exciting and scary at the same time. One thing I do know is that Kate & I can't wait for 2017. Whether our plan is successful or not, we're sure we won't be leaving the honeymoon phase of our full-time RV lifestyle anytime soon.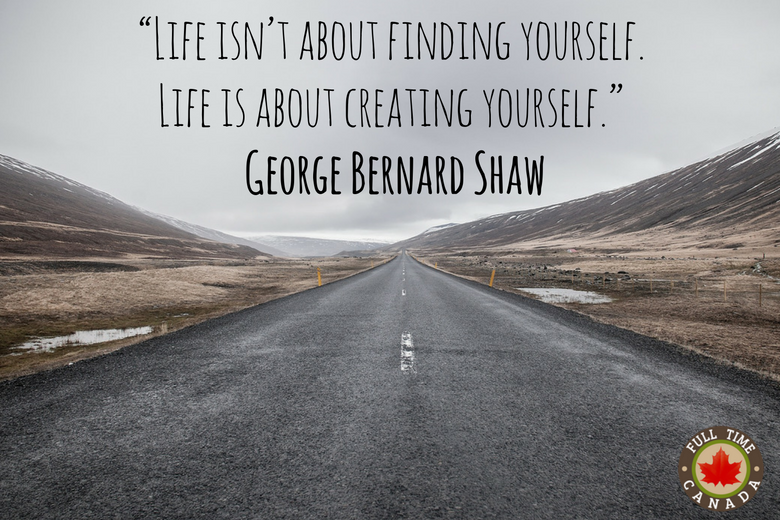 What plans do you have for 2017? Do you have a mobile business or any startup tips you can offer?