"Oh, you're going to love driving across Canada, it's so beautiful – except the prairies. It's flat and boring until Calgary." That's all we heard from friends, family, and fellow travellers who have made their own cross-country journey at some point. I knew from elementary geography school class that – yes, the prairies are indeed flat. However, because we had never previously driven the roads that cut through the golden fields of Manitoba and Saskatchewan, we were actually both looking forward to the drive.
Not only had Kate nor I ever driven through Manitoba and Saskatchewan, we've never even been in either province. As soon as we exited Northern Ontario, we were going to be entering new territory. Anytime we visited any place new, we get excited. You never know what you're going to see or experience which is a tad thrilling.
Getting There
Day 19 of our coast-to-coast trip had us planned to leave Thunder Bay. We were then going to stay one more day in Northern Ontario in Kenora. The fall day was beautiful as we began our drive towards Kenora. The changing leaves of the birch trees were golden under the bright sunshine. The drive was going great as we began winding through thicker patches of forest and lakes. After a couple of days rejuvenating in Thunder Bay, we had a certain amount of energy to burn off. Then the discussion commenced.
Kenora is a beautiful little town with some great outdoor activities, but for us on this trip, it was just a place stop for the night. It's also just two and bit hours west of Winnipeg – our next stop after Kenora. Because we were making good time to Kenora and the fact the weather was great, we decided to bypass Kenora and head straight for the 'Peg. We also crossed into Central Standard Time outside of Raith, Ontario which gave us an extra hour to play with for the day.
Getting to Winnipeg from Kenora wasn't quite the breeze the earlier part of the day was. It's almost like Kenora was trying to find a way to keep us for the night. As we entered the small town, I noticed that one of our RV tires was losing air according to our tire pressure monitoring system. The system hadn't alerted us of a leak or that the tire was about to blow which was a plus. However, it's not normal for a tire to lose air while driving. Usually, tire pressure will increase while driving.
I was worried that we had a serious issue on our hands and at the same time, I didn't know how to deal with it. My mind was going around in circles as I searched for helpful information on Google. Finally, I ended up reading that unless your tire has lost 15% or more of its air pressure you should be ok. Knowing that, we were more than OK having lost less than 10%. It was at this point that we decided that we needed to get an air compressor for situations like this where we may need to top up a tire or even the spare.
Once the small tire fiasco was behind us, we trucked on into Manitoba for the first time. Almost immediately upon entering the province, the terrain leveled out from the hilly and treed landscapes of Northern Ontario to a flatter and wide open surrounding. We noticed how you can literally see for miles and miles. In fact, it's probably a 100 miles on a clear day. There are hardly any visual obstructions blocking your view as you drive the Trans-Canada Highway towards Winnipeg.
We also saw three large bald eagles sitting together in a group of trees. No matter how many bald eagles we see, we always get excited. They're just such beautiful birds. Aside from the occasional thumb war, spotting and identifying birds while driving is one of our main activities to help pass the time.
Less than two hours after crossing into Manitoba, we were just outside of Winnipeg in Iles-de-Chenes. Here is where we were going to spend the next couple of days at Arrowhead RV Park. After setting up the RV, we were ready for a good night's rest before exploring Winnipeg the next day.
Winnipeg
There were a few things that we definitely wanted to do while in Winnipeg. We wanted to go to the Canadian Museum for Human Rights, the Forks National Historic Site & Market, & the Royal Canadian Mint. It was also important that we find a spot for perogies and ice cream. Our plan had to change though as we received a good phone call the day before while driving towards Winnipeg.
CTV Visits Full Time Canada
CTV Winnipeg had left us a voice mail while we were on the road to ask us if we wanted to do an interview for the Saturday night news. Of course, the answer was a resounding yes. The only downside was that it was going to cut into our touring time of Winnipeg. We were OK with that as we were excited for the opportunity to share our story and alternative lifestyle with the people of Winnipeg and Manitoba.
After a few phone calls, we knew that a reporter would be coming by around noon to interview us. So yes, this meant that a good part of our planned day would have to be ditched, but again, not a big deal – we were excited.
Finally, just pass noon, the white CTV vehicle approached our RV. Out stepped a man, who introduced himself as Chase. We had a quick chat with Chase who repeatedly told us that we were living his dream. Hearing something like that always makes us feel great about the decision we made to full-time RV while exploring our great country.
Our interview with Chase went great aside from the fact Paris Frances felt the need not to make an appearance for the camera. The likely combination of Chase being a stranger, and the giant camera with a fuzzy mic left Bella nervous. This resulted in her barking at both Chase and the camera. We tried to convince her that everything was OK but she refused to trust the mic which resembled her fuzzy chew toy.
We want to thank Chase and everyone at CTV for the time they took to share our story. You can read and watch it – right here.
Canadian Museum for Human Rights
Thanks to Tourism Winnipeg, we had passes to the Canadian Museum for Human Rights. The idea to go to  a museum on the topic of human rights isn't something we'd normally incorporate into our trip, but everything we had heard about the museum was beyond positive. This left us eager to visit.
Before we got there, we were instructed to download the app for the museum and to bring our ear buds. The app would be our tour guide for our walk through the building and its galleries.
A quick drive from our campground brought us into St. Boniface. After crossing the Red River we were on Israel Asper Way. Next, we were staring at one of the most impressive buildings we had ever seen. We were unsure but assumed that this was the Canadian Museum for Human Rights. Kate noted how the building's design looked like two people hugging. A short walk along the sidewalk in front of the enormous and impressive building had us standing in front of a Gandhi statue. To us, this symbolized that this was the correct building.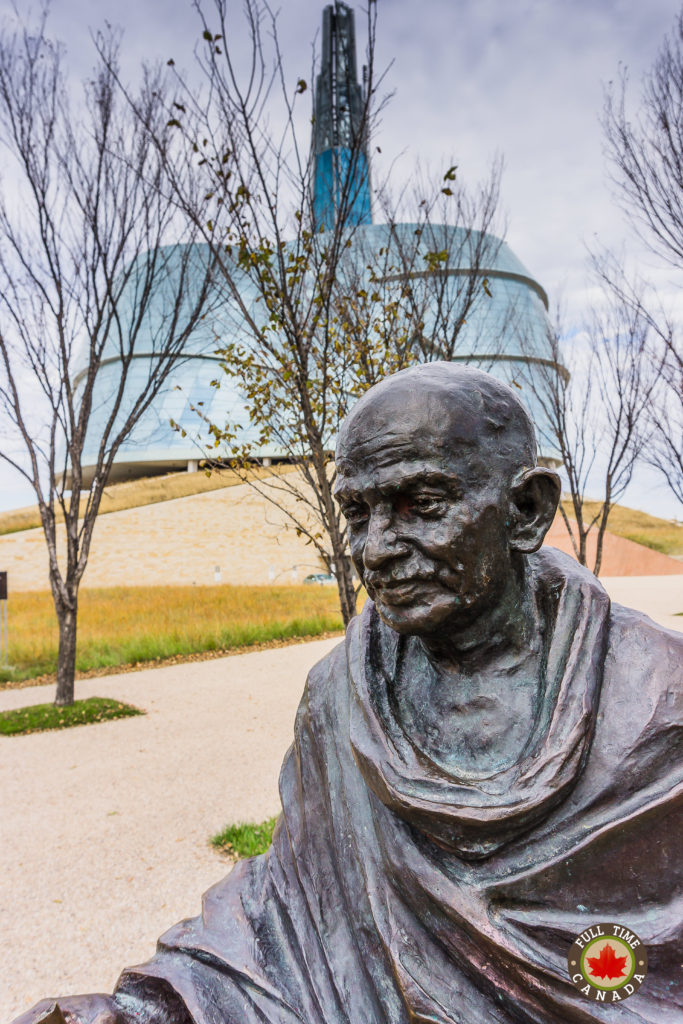 Upon entering, we were greeted by a friendly volunteer who went on to give us a brief introduction of the museum. He informed us that no matter how long we were to spend inside of the building, that we should come back frequently as there is always something new to learn on every visit. This left us keen to get touring around the building.
As impressive as the exterior design of the building is, the interior is just as spectacular. Wonderful architectural design went into the process of constructing this monstrous building. The one site that  grabs your eyes is the marble-like ramps that lead up and down through the various levels and galleries. Our tour guide app had explained that the architect designed the building with the idea of having every part of the building to have meaning for human rights. The marble-like ramps are Alabaster ramp-ways that lead upwards for 800 meters towards the Tower of Hope. The architect described that the ramp-ways were meant to symbolize universal design that is equally accessible to everyone who visits.
For a couple of hours, Kate and I wandered through the various galleries. This provided us with a tremendous amount of information and sadness. The world is far from perfect but it is much better than it used to be based on everything we learned. So many people, all over the world, throughout recent history, have had their basic human rights violated – even here in Canada.
Most Canadians often think of our country as a perfect country with a perfect past. After walking throughout these galleries we learned that isn't the case. A lot of people were treated horribly since we became a country in 1867. There are a wide variety of incidents throughout Canadian history where basic human rights were violated.  Our eyes were opened to what we had just discovered. We learned about the 60's Scoop where Aboriginal children were taken from their homes and placed into foster homes. There was also the terrible acts committed against Japanese-Canadians during World War II. The list goes on. Our country is a great country, but our history isn't as rosy as we think it may be.
Without a doubt, the most impactful gallery for both of us was Examining the Holocaust. We both knew in-depth about the holocaust and the tragedies of Hitler's Nazi regime, but walking through the displays crippled us. Not long after entering the gallery, Kate had to leave because the information and images were too much. She wasn't the only one. You could see other guests reading displays while tears streamed down their cheeks.
A few minutes after I finished walking through the gallery, I caught up with Kate before continuing through the other galleries. The other various galleries explored the progress of human rights throughout time leading up to where we are today in regards to human rights. We finished our tour by climbing several flights of stairs of the Tower of Hope. At the top of the tower, we were greeted with an impressive 360-degree view of Winnipeg and the surrounding plains of the prairies. Our quads were also screaming at us to get in shape by the time we reached the peak of the building.
There's no doubting that the museum is a powerful building. It opens your mind and makes you think which is exactly what it is meant to do. You leave with plenty of questions. You also are left wondering how society can continue to progress in regards to human rights. Although our visit was a wild mixture of emotions, we were pleased that we were able to visit the powerful building.
The Forks National Historic Site & The Forks Market
During our interview with Chase, he asked us what we had planned to do throughout our brief stay in Winnipeg. We informed him that we were hoping to have time to visit both the Mint and the Canadian Museum for Human Rights. He then told us that we should definitely add The Forks – as locals call it – to our itinerary. Luckily for us, The Forks is located right beside the Canadian Museum for Human Rights.
The Forks is a fantastic spot. It's a nine-acre park where the Red and Assiniboine Rivers meet in the city. The history of the park goes back approximately 6000 years when early aboriginals frequented the area. Because the Red and Assiniboine meet up in a unique fashion, the Forks was an important destination during the fur trading period when traders would use the rivers as their main transportation route.
Nowadays, the park is still a busy meeting spot but for a lot of different reasons. The city and Parks Canada have done a wonderful job in creating a park that everyone can visit while finding something enjoyable to do. There are great trails that wind throughout the park and along the rivers. There are also beautiful sculptures, boat rides, and even a BMX/skateboard park for kids. A lot of people also look forward to doing some shopping or eating while at the Forks which you can do plenty of both.
Perogy Time
Staying true to the tradition of the Forks as a trading and marketplace, there is a farmers market every Sunday throughout the summer months. Aside from the farmers market, there are buildings around the Forks that feature copious amounts of shopping. What we were looking for (as always) was food, specifically – perogies.
Growing up, the tasty potato and cheese filled dumplings were a staple at family get-togethers. My great-grandmother, who was born to Polish-Ukranian parents in Manitoba learned the traditional meals of her parent's native lands and passed down those skills to my grandmother and aunt. Perogies in my family are a big deal and I believe my aunt makes the best perogies out there. Even still, since we were in Winnipeg, a city with a rich Ukranian history, I felt it necessary to find a good perogy joint.
The one building at the Forks is filled with a plethora of food options. Any type of food you could think of, you could get it in this building. I assumed that there had to be a perogy joint somewhere in the old brick building.
While we were in a souvenir shop, Kate asked the lady running the shop if there were any good places to grab perogies. She then pointed across the way to Baba's Tall Grass Pantry and although I couldn't see the menu, I could tell they had perogies based on the name. Baba is that is the name we call my great-grandmother so there had to be perogies.
Once we had purchased our souvenirs, we crossed the hall to Baba's for a peek at the menu. Success. Perogies were indeed on the menu along with other traditional Ukrainian dishes like cabbage rolls. Kate and I both ordered a perogy combo meat plate which came with sausage, cabbage rolls, a salad, and obviously – perogies.
Finally, once our dishes were ready, we sat down, smothered our perogies in sour cream and dug in. I must say, the perogies were good. They came with fried caramelized onions which tasted good by themselves but the sweetness of the onions didn't match well with the perogies. Usually, we just have butter fried onions with ours. The perogies themselves were really good; the best I've had other than ones devoured at family get together's.
Sargent Sundae
With our bellies stuffed with Ukrainian delights, we could have easily retired back to the RV. Then we remembered we couldn't leave Winnipeg without finding an ice cream joint for our Ice Cream Tour of Canada.
I had remembered when reading about Winnipeg that they had this place locals loved called Sargent Sundae. I also saw on their Facebook page that they were now serving pumpkin soft serve which got rave reviews from happy customers. It's rare that I know exactly what I'm going to get when I go for ice cream, but I knew I had to try this pumpkin soft serve.
Sargent Sundae is located outside of the downtown core of Winnipeg, about 10km west on Portage Avenue. During the summer months, the place is apparently often lined up out the door, but since it was now fall, it was a bit more quiet. For the time of year, it was still quite busy.
Even though, I knew I wanted pumpkin soft serve, a look at their menu got me wanting a few other frozen pleasures. I'm lucky to have Kate. When I told her that I was conflicted she asked what else I wanted. I told her about five other things which she told me to narrow down to one. I told her I really wanted the peanut butter sundae. So, she ordered that while I ordered the pumpkin soft serve in a waffle cone.
Wow. That's all I can say. Both the pumpkin soft serve and peanut butter sundae were beyond incredible. Kate and I ended up sharing each other's ice cream as a way of maximizing our level of ice cream enjoyment. Every lick of the pumpkin soft serve was a treat and every scoop of the peanut butter sundae was a sweet punch of sweetness to my tongue. Out of all the ice cream spots we've tried along our cross-country trip, Sargent Sundae has been the best, in my opinion.
Departure Time/Location: 9.30a Thunder Bay, ON
Arrival Time/Location: 5p Winnipeg, MB
Total Distance: 702km
Next Stop:  Regina, Saskatchewan