Before I visited Saskatchewan, I only knew a couple of facts. It's flat and there are grains grown there. After visiting, I can tell you that this prairie province is beautiful. So many people told us it is boring, ugly, and there is nothing to see. Wrong, Wrong and Wrong. Sorry, but our view is there is a lot to do in Saskatchewan and we didn't stay long enough to do some of the cool stuff. There are many beautiful areas and a lot of birds to watch. Our one and only stop was in Regina which reminded me of London, Ontario.
Getting There
Driving in Saskatchewan while pulling a 5th wheel is a piece of cake. We drove from Winnipeg, Manitoba to Regina. You don't spend near as much on gas/diesel while hauling because there wasn't any wind and the roads are well constructed and flat.
We were both in great spirits, as neither of us had been in the prairies, and to our surprise, there were birds everywhere. We travel with a Peterson bird guide book in the truck. To our delight, there were magpies, Bald Eagles, many hawks and thousands of Canadian geese and ducks. We also saw flying in a V with the Canadian Geese a few white geese with black tipped wings. What the heck were this birds taking part in the Canadian Geese V flights? Snow geese. Beautiful geese that were just hanging out with their Canadian fowl friends on their way to warmer parts of this continent.

There is plenty to look act while driving, including active railways. We watched trains all throughout our drive. Flat farmland growing various grains are all along the Trans-Canada Highway. What we found cool were the grain elevators. You can see them from miles away, all different colors, and they dot the landscape usually with a town's name written in big black letters on the side. Adam remarked, "They are like the lighthouses of the Maritime Provinces."
King's Acre RV Park
At first sight, this park is old. It had a beaten up, broken playground for kids, and dated (albeit clean) bathrooms. We also had to pay $2 for a shower that runs for 5 minutes. The reason for staying at this park is its near Regina. We set up and figured the WiFi would be less than adequate because the park is so old. Wrong! The WiFi was the best we have had yet while travelling. It goes to show, you just never know. This was important to us because we were so far behind in our writing. This meant we spent the following night writing and working on social media. I was so tired that the traffic of the nearby highway didn't bother me one bit while I was sleeping.
The next morning, we awoke to rain. Adam checked the forecast and informed me there was a special weather statement for the province. Rain, up to 50mm into the following day, and then that rain would turn to snow and colder temperatures. We knew we had to get up early and get out of Saskatchewan the next day. Faced with rain throughout the day, we planned our day over breakfast. Bella had been walked, and we would be spending about 6 hours in Regina with four places to visit.
Royal Saskatchewan Museum
This museum consists of exhibits about Saskatchewan's geology, dinosaurs, nature, & First Nations. Some modern exhibits make you think about your existence and how you are impacting the planet. Their special exhibit was on the snakes of the province, which had live snakes in enclosures.
Three interesting/random things we learned at the museum.
 Each pole used in a teepee means something and is used as a teaching mechanism.
 Prairie Grouse will bury themselves in the snow to stay warm and safe. This can also result in death if it freezes and seals them inside.
 That black stuff you see on trees, where it kind of looks like birds pooped black stuff on the branches? That is black knot fungus.
We had a great time at this museum. A major bonus is that admission is by donation. There is also plenty of free parking.
RCMP Heritage Centre
My dad was an Ontario Provincial Police officer, so I am always interested in museums about police officers. This museum does not disappoint. It's a self-guided tour which takes you through the start of the North West Mounted Police in 1873.
Throughout the museum, you see the work that the Mounties did with the Canada's First Nations in the early days of the NWMP. We also learned about weapons and badges used throughout the years, the introduction of police dogs, how to crack a case by looking at ballistics, forensic light source technology, how to spot counterfeit money, and information on e-currency.  You can also try on the traditional red serge (jacket) and various Mountie hats for a photo.
There are two things that stand out from our visit. The RCMP 3D virtual reality Musical Ride experience. I could have spent all day on that fake horse wearing those goggles and listening to the Musical Ride. Also, the movie on what the RCMP cadets go through in a 6-month training course was intriguing. Our friend Skyler had recently gone through the RCMP Academy Depot, so we were impressed by the rigorous training he and the other officers go through.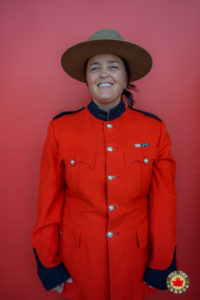 Bushwhackers 
In Regina, the place to eat is at a pub. The town has had an explosion of craft breweries. We decided to try Bushwhackers. It's in a beautiful old building that features dozens of types of craft beer. Neither Adam or I really drink beer. We had heard wonderful things about their food, so I ordered a Ukrainian plate that included perogies, a cabbage roll, sauerkraut, and a piece of beer bread. Adam ordered a "Prairie Pizza." The pizza was mushrooms, bacon, and cheese (Typically called a Canadian elsewhere) and it was yummy. The crust had cheese baked in. We split both of these plates and agreed the pizza was delicious.  The Ukrainian plate was just alright.
Ice Cream Tour Continues
The place we wanted to get ice cream in Regina was closed for the season. Instead, we made our way to the 2nd best place according to the internet. Dessart Sweets Ice Cream & Candy Store is a candy store that had me mesmerized when we went in because of the amount of licorice's they had. I needed to focus, though, we were there for ice cream. Dessart Sweets Ice Cream & Candy Store only serves soft ice cream. Adam had a peanut butter sundae with Reese's Pieces and I got a chocolate brownie sundae. We ate them outside, shielding ourselves from the rain by standing under a sheltered area of their outside patio. This ice cream was a 3/5.  It was good, not great. It was also a little pricey for what we got.
Need More Time
Adam and I both agree we need more time in Saskatchewan. It's a great province and we want to know more.  We wished we could have stopped in Moosejaw and explored the tunnels used by Al Capone and the rum runners during the prohibition.
Departure Time/Location: 9a Winnipeg, MB
Arrival Time/Location: 5p Regina, SK
Total Distance: 573 km
Next Stop: Cochrane, AB