Have you ever gone to a concert where the opening act was way better than the headliner that you went to see? I remember that happened when I saw the Rolling Stones back in the early 2000's. No Doubt opened up for them and put on a great show while the Stones were a big letdown for me.
As we left Quebec City towards Montreal, I was wondering if Quebec City would steal the show in the province. Montreal is by far the larger city with more attractions, but we fell in love with Quebec City. This made us wonder if Montreal could even compete. Of course, we wanted to find out.
Getting There
Compared to the first couple days of travel, travelling from Quebec City to Montreal was a breeze. It was a much shorter trip and there was actually next to no breeze. We've learned that no wind makes travelling much easier and quicker. The elevation was also relatively flat which allowed us to maintain the speed limit for long periods of time.
There was, however, one incident that had both of us holding our breath. About halfway to our destination, there was a tour bus that had pulled in front of us. Kate allowed the bus to get plenty of distance on us. This is customary for proper braking while towing the fifth wheel. Two small cars then pulled in behind the bus as it approached an exit. Just before the exit, the bus signalled. The two cars behind the bus and ourselves assumed the bus was signalling to drive towards the exit. Nope. Instead, the bus pulled over just before the beginning of the exit lane rather than maintaining its speed towards the exit. This forced the two cars behind the bus to slam on their brakes.

Even though Kate maintained a safe distance between our truck and the cars in front of us, the sudden braking left us braking hard. The one thing we've learned while towing the fifth wheel is that it does not stop on a dime. Thankfully, Kate had left just enough room in front of us for us to avoid a collision. Even still, we both took a breath of relief immediately after the incident while also cursing at the tour bus.
Driving near big cities will always be interesting because people tend to drive more erratic in those areas. We've learned that it's important to leave lots of room in front of the truck. From what we've read, it's ideal to leave 400-500 feet between our truck and the nearest vehicle. This will allow for proper braking. This, of course, isn't always possible in larger cities but it's a good practice to follow when possible.
Vehicles merging into traffic has been interesting at times as well. Again, in the larger cities where there are a higher number of vehicles merging into traffic, it can cause some tense situations. Ideally, you want to move a lane over to allow the merging vehicle to enter the lane. This isn't always possible as there is often traffic right beside us in the other lane meaning we can't move over. It's all timing and paying attention to the oncoming merge lane. When we see a vehicle coming, we check the lane next to us. If it's impossible to move over, we slow down to allow the vehicle to merge in.
Beloeil
While in the Montreal area, we camped at the fantastic Camping Alouette about a half-hour outside of the city. Friends and people in the park had informed us that Montreal is chewed up right now with a crazy amount of construction. This has made commuting into the city often quite a bit longer that what it would usually take. Knowing this, after arriving at Camping Alouette, we made the difficult decision to take it easy for the day and avoid driving into Montreal.
Instead, we decided to take some time to enjoy the small city of Beloeil. The city has a tremendous scenic background provided by Mont Saint-Hilaire. The weather was perfect, so we parked the truck and explored the beautiful waterfront area on foot. It was a nice place to stop for a few minutes to enjoy the view of the nearby mountains.
Frite du St. Mathieu
While in Quebec – eat poutine. It's mandatory. Neither of us grabbed the Canadian dish while in Quebec City. This meant we had to enjoy the dish before we left the province. This left us with two days to do so and we didn't want to chance not being able to get a poutine on day 2 in the Montreal area. When we searched restaurants in Beloeil, Frite du St. Mathieu came up with a picture of a massive poutine that made my mouth water. I was sold. We had to have poutine at this place.
After a quick look at the menu, I ordered a medium sausage poutine. Kate ordered a regular medium poutine and a cheeseburger. Boy – do we wish we knew how large a medium was before ordering. Our poutine came in an enormous pile in what resembled a tinfoil pie dish but holy moly did it look amazing.
Sometimes when you order poutine, restaurants will skimp on the cheese curds. It's not shocking because they're the most expensive part of the dish. Frite du St-Mathieu definitely did not skimp on the cheese curds. There was a substantial offering of cheesy goodness to enjoy. The curds were nice a squeaky, too. I learned that this is because, during the process of making curds, air and water are captured in the curd which causes the squeak. If you have curds that don't squeak it means that they are likely older or have been dehydrated.
It's difficult to find a time when I cannot finish a meal, but my medium sausage poutine was not completed. I did, of course, eat all the cheese curds and sausage, which was actually cut up hot dogs. Kate was done her poutine after barely putting a dent in it. I, of course, managed to enjoy some of her cheese curds before we left. You can never let cheese curds go to waste. That's an important life lesson.
Cremerie du Beloeil
Even though our bellies we full of cheese, gravy, and fries, it was important to us that we try to find a stop for ice cream. Down by the water, we found the Cremerie du Beloeil – a small but charming spot serving up dairy goodness.
The Cremerie featured about a dozen different flavours of ice cream from Coaticook. Kate ordered a maple taffy cone which she said was very good and comparable to Cows in PEI. I felt the need for something a little more unique so I went with the Banane Royale. Served in a boat-shaped dish, it was essentially a banana split with strawberries, pineapple, cherries, whipped cream, and chocolate sauce. It was quite delightful and left me wishing for a nap afterwards.
Montreal
Planning
While we enjoyed Beloeil, we wanted to get into Montreal and enjoy the city for the first time. Knowing that we only had only had one day to tour a large city, we had to plan.
The first part of our plan was trying to figure out how we were going to get into Montreal. We knew that we didn't want to drive into the city because of the construction and traffic. A couple of people recommended that we take the Metro (subway) into Old Montreal from Longueuil, so that's what we planned to do.
With our travel plans calculated we had to figure out exactly what we were going to do once in the city. With only one day to spend in the city, we knew that we had to focus on Old Montreal. I spent some time looking around some travel lists that pointed out some must-do spots and tried to put together an itinerary. It was while I was doing that I thought of the idea of letting someone else plan our itinerary for us.
I knew that we wanted to learn about and enjoy as much as Old Montreal as possible. The best way to learn quickly is through a tour. Figuring it would be best to stay on foot, I looked up walking tours in Montreal. Immediately, food tours popped up during my search. From what I've previously heard, Montreal is a fantastic food city. I pitched the idea of the food tour to Kate. She loved the idea meaning we had our day pretty much planned.
Getting Around
The bus terminal/Metro in Longueuil is easy to find and didn't take long for us to get to from Beloeil. We had no problem finding a parking spot for our large truck which surprised me a little bit. We arrived at around 8.30 and I was expecting the terminal to be a bit busier. Compared to Toronto public transit, it was like a ghost town.
Once in the terminal, we had to figure out where to go. We had heard that you take the subway aka Metro into the city, but all we saw were buses and no information desks. After walking around, we found an information desk where a lady informed us the Metro is downstairs. Downstairs, a Metro employee educated us on which stop in Old Montreal to get off at. The subway lines are quite simple and easy to understand. They're comparable to the lines in Toronto but much easier to figure out compared to the subway in New York City. If you're planning on visiting Montreal, plan to use the Metro. It'll be your best friend.
The Old Montreal Food Tasting & Cultural Tour
Yes, we love food but we chose this tour because it combined food with the history and culture of Old Montreal. Local Montreal Food Tours put on this tour. They also host their Mile End Food Tour and Brewpub Experience tour.
Our tour was hosted by the enthusiastic Christian, who led us around the city for three hours, explaining the history of the city. Between learning about the city, we stopped at 7 different restaurants to sample food at the places locals love to eat in Old Montreal.
Brit and Chips
Just after 11 in the morning, we met our tour guide at Brit and Chips, the first stop on our food tour. After brief group introductions, Christian led us into Brit and Chips. It's exactly what you can imagine it is – a fish and chip shop. The restaurant has 3 locations in Montreal that aim to serve fish and chips like you would get in Britain. Our sample of fish and chips was quite delicious. Kate remarked that it was the best she has ever had. The tartar sauce, which included tasty herbs and capers was exceptional, in my opinion. We recommended this joint to our friends Eric and Rosie who passed through the city a couple days after us. They said that they enjoyed eating here, too.
Cantinho de Lisboa
The next stop on our tour was at Cantinho de Lisboa – a Portuguese market & café. The restaurant is the creation of Chef Helena Loureiro. It features a long line of gourmet Portuguese foods. Christian told us that we'd be snacking on salad and soup at this stop. To me, this didn't sound too exciting, but of course, since its food, I was still interested. We were served a salad with poached egg and salted cod along with a bowl of potato soup with chorizo. I was a little weary of eating a salad with salted cod as one of the ingredients, but I'm glad I gave it a whirl as it was quite delicious.
Crew Labs Collective & Café
I would never have guessed that we'd be eating in a bank during our food tour but that's exactly what we did at Crew Labs Collective & Café. Christian led us into the old Royal Bank building that opened in 1928 but closed in 2010. The bank sat vacant for 6 years until this year when Crew Labs moved in. The setting is fabulous. As you walk up a long set of steps, you enter a grand hall that included chandeliers, marble, and a lot of detailed bronze tile.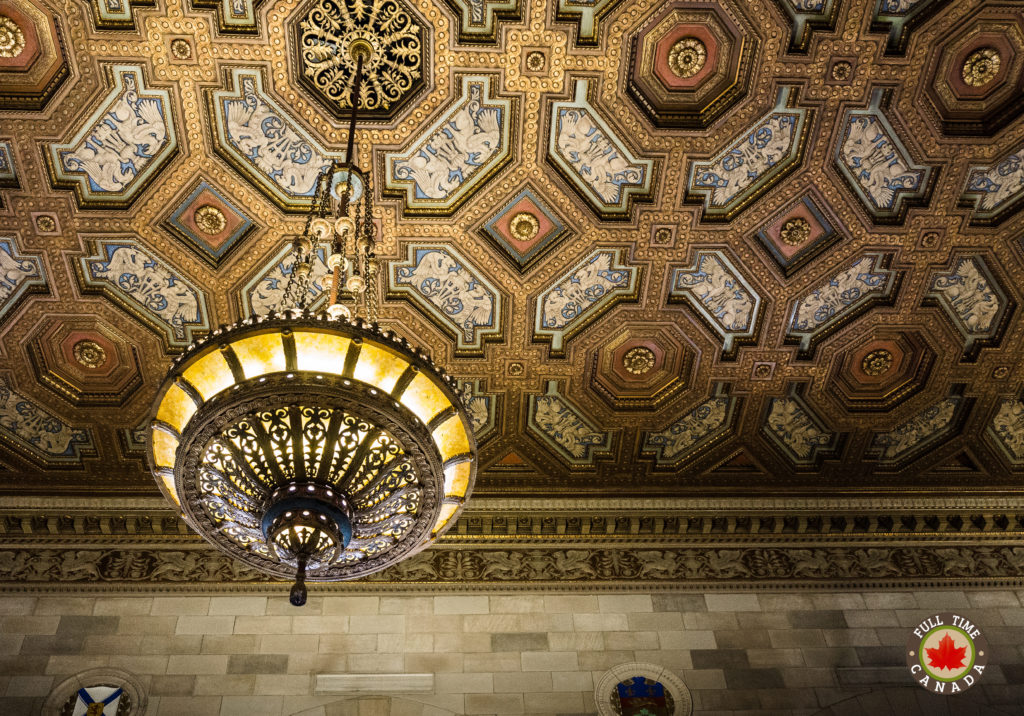 Even though the bank no longer resides in the building, it still felt like a bank. Crew Labs wisely kept the majority of the layout unique to the bank. This included having their small café built into the old teller stations. It was impressive to see. Here we ate a simple BLT which was good but the setting was the highlight by far.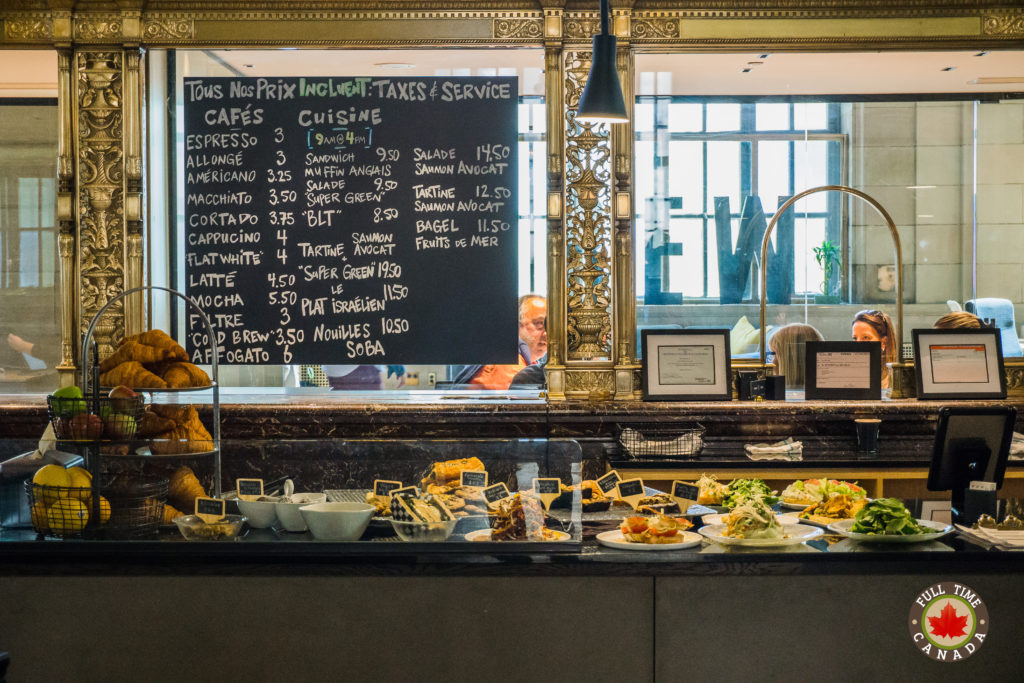 Cookie Stefanie
We had been enjoying samples of some nice dishes by this point in our tour but it was now time to have dessert. We stopped by a tiny gluten free bakery called Cookie Stefanie. It was here that our group all wished that we could have sampled one of everything behind the counter. Unfortunately, that wasn't the case. Instead, we ate a nice square of gluten free carrot cake. It was kind of a tease just to have a small sample. It was so good and I'm certain I could have eaten all the samples offered to the group.
Le Petit Dep
As we left Cookie Stefanie, Christian informed us that we were in for a surprise. I'm always down for a surprise when it comes to food. For our surprise, we were led to Le Petit Dep – a high-end convenience store. Because we were now in a convenience store, I wondered what exactly our surprise was going to be. As I walked in behind the rest of the group, I saw our group starting to enjoy ice cream. As you know, I love ice cream. This was a beautiful surprise. I walked up to Kate who was already appreciating her cone. When she saw me her eyes got big and said, "It's sooo good!" It turns out the flavour of soft serve ice cream was apple caramel. As she often is – Kate was right. The ice cream was incredibly flavourful. We both remarked how we would likely never purchase apple caramel ice cream but how surprised we were by how much we loved it.
Les Soeurs Grises
The second to last stop on our tour was at Les Soeurs Grises – a microbrewery and restaurant. It was here that we had the chance to sample locally brewed beer along with some local cheeses. The beer was a blonde Belgian-like beer infused with green tea which we thought was interesting. Neither of us are particularly "beer people" but we both gave it a try. I actually quite enjoyed it. Secretly, I wanted to stay here to have dinner. All the food the servers were bringing out to other tables looked phenomenal.
Soupe Soup
Maple syrup is enjoyed throughout Canada but Quebec really loves its maple syrup. It's not surprising considering Quebec produces 91% of the maple syrup in Canada. During our last stop, it was time to enjoy a sweet, maple treat. The dessert we sampled was Pouding Chomeur which translates into "poor man's pudding." It was first created during the Great Depression, by female factory workers in Quebec.
The dish is a simple cake batter that has maple syrup poured on top of it before baking. During the baking, the maple syrup mixes with the batter before settling on the bottom of the dish. When the dessert first arrived, I looked at it and wasn't too impressed. It didn't look that tasty compared to something like a giant slice of Turtle Cheesecake. But boy, this dessert was extraordinary. Considering how simple it is to make the dish, I couldn't believe how tasty it was. Funny how maple syrup will do that.
The recipe is super simple to make – I recommend that you do. I have some maple syrup waiting for me to cook up a batch.
Notre-Dame Basilica of Montreal
With limited time after our food tour, we had a couple of stops we had to make before vacating Montreal. One of those spots was the world famous Notre-Dame Basilica of Montreal. Neither Kate nor I are religious but we couldn't leave the city without seeing the impressive interior of the basilica.
For $5 you can enter the grand church and walk about on your own. For a little extra, you can go on a 20-minute tour of the building. Because we had limited time, we chose to explore on our own. As soon as we entered, the sound of a great pipe organ overtook us. At first, everything was overwhelming and we just stood still. We didn't know where to begin, so we just sat down in a pew near the back listening to the music pumping out of the pipe organ.
A few minutes later, we began exploring the outside walls of the basilica which featured magnificent stained glass. Some of the depictions of the art were religious but not biblical. There were images that told some of the local religious history of Montreal, specifically the history pertaining to natives.
The ceiling of the basilica is nothing short of spectacular. I just stood there and marvelled at all the detailed carvings and colour. It is something you have to see in person to truly enjoy.
Over the years, the basilica has hosted some big events. Most recently, this past January, it was the setting for the funeral of Rene Angelil, the husband of Celine Dion. The couple also married at the church in 1994. The building has also hosted funerals for former Prime Minister – Pierre Trudeau and Montreal Canadiens legend -Maurice "Rocket" Richard.
I Scream for Ice Cream
Even though we ate for the better part of 3 hours, we couldn't leave Montreal without getting more ice cream. Yes – we had a sample cone on the food tour, but it wasn't a full cone, sooo, yeah – ice cream time!
There was a spot that I wanted to go to but it was a half hour hike each way. We love our ice cream, but we were pooped and wanting to get back to Bella and Paris. A quick search for ice cream on Google Maps pointed us towards Chez Catherine. Located in Old Montreal, it's a hip place to grab an ice cream. Their speciality appeared to be freshly made popsicles but I couldn't divert from getting ice cream. In the end, I ended up enjoyed a couple of scoops of the same maple taffy ice cream that Kate enjoyed the day before.
Departure Time/Location: 9.30a Domaine de la Chute, Saint-Apollinaire, QC
Arrival Time/Location: 1p Camping Alouette, Saint-Mathieu-du-Beloeil, QC
Total Distance: 198km
Next Stop: Bradford, ON