When Kate & I first considered purchasing an RV we did a tonne of research. It seemed like we spent days reading while trying to educate ourselves about RVs and everything about them. Some of the research we did was not just about RVs, but what were the MUST have accessories that every RVer should have.
Repeatedly, on various RVing forums and Facebook groups, we read about the one piece of equipment most RVers would recommend – a surge protector.
What is a Surge Protector?
A surge protector is either a hardwired or portable piece of equipment which has the main purpose of protecting your RVs electrical system and electrical appliances. Think of it as your RVs first line of defence when it comes to protecting your electrical system & appliances. If a surge protector detects a situation that it deems harmful to your RV, more than likely it will cut power to your RV. Depending on the model of surge protector you have, it may tell you why the power was cut allowing you to properly figure out how to deal with the situation.
Some of the most common ways a surge protector will protect your RV include:
–Poor Wiring. While most RV parks are great, older parks will have older electrical systems – some which may have been wired poorly. The wiring could also have been damaged over the years or even eaten through by rats or mice. While you can check a parks power with a voltage meter, a surge protector will guard you against any of the above or should anything suddenly change regarding an RV parks electrical system.
–High Voltage/Low Voltage. One of the main features of a surge protector is to provide a barrier between the parks electrical system and your RV regarding high & low voltage. Power boosts can happen quickly and occur out of nowhere. Often these are caused by lightning strikes. While some RVers will protect themselves from this by unplugging during storms, it's more convenient just to protect yourself with a surge protector.
It will also protect your RV in low voltage situations. While this is less common, it can still cause serious harm to your electrical system or appliances. Low voltage situations can occur more often in the summer when a park full of RVs are all using their AC units which demand a lot of power.
There are other ways a surge protector can protect your RV, but these are the main ones. We'll tell you about another way our surge protector guarded our RV later.
Types of Surge Protectors
Depending on the model of your surge protector you will be protected from various issues. The cheaper the model, the less overall protection you will have.
The basic surge protectors on the market can be had for around $100. For the most part, they will only protect you from big surges. That's a good thing but that's usually where the features of these types of surge protectors ends. They're not a bad idea if you only occasionally RV but if you RV more often you'll need something with a bit more bells and whistles.
The basic + level up of surge protectors can range from $100-$200+ and like the basic models they will offer general surge protection. They will also typically offer protection from high/low voltage and faulty wiring.
A complete surge protector with all the bells & whistles which will give you the best overall protection will be costly at around $300-$400. It may sound like a lot of money but when you consider that it can save you thousands of dollars from replacing your electrical system or appliances it's a pretty good deal.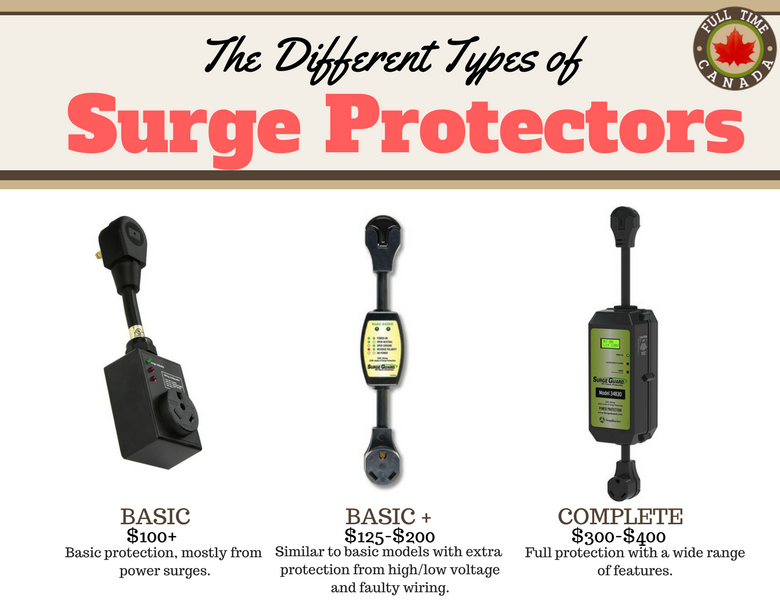 Portable or Hardwired?
Surge protectors are currently available in two ways – portable and hardwired.
A portable surge protector is one that you connect your RVs power cable to and then connect the surge protector to the power pedestal at the RV park. These are the most common types of surge protectors that you will see other RVers use. While they can be a bit bulky in size, they are easy to hookup every time you move to a new RV site.
The one potential drawback to having a portable surge protector is they can easily get stolen. Because of how expensive some models are, thieves can simply approach your site and unplug your surge protector saving themselves hundreds of dollars while costing you the same. This issue can be solved in various ways. Some surge protector models have lockable casings available for them or security locks. Some RVers simply design their own theft protection usually in the form of a chain & lock or something similar.
A hardwired surge protector is just like a portable surge protector, however, rather than having to hook them up every time you move you have it hardwired internally into your electrical system. While it's nice having a hardwired unit that you can set up and for the most part forget about there are some drawbacks.
Because these types of surge protectors are hardwired, it means you must connect them to your RVs electrical system. For some, this may be straightforward. For others, it could be a daunting and potentially scary situation having to deal with your electrical system. Also, if your surge protector ever becomes fried from protecting your RV, you will have to uninstall it and re-install a new one.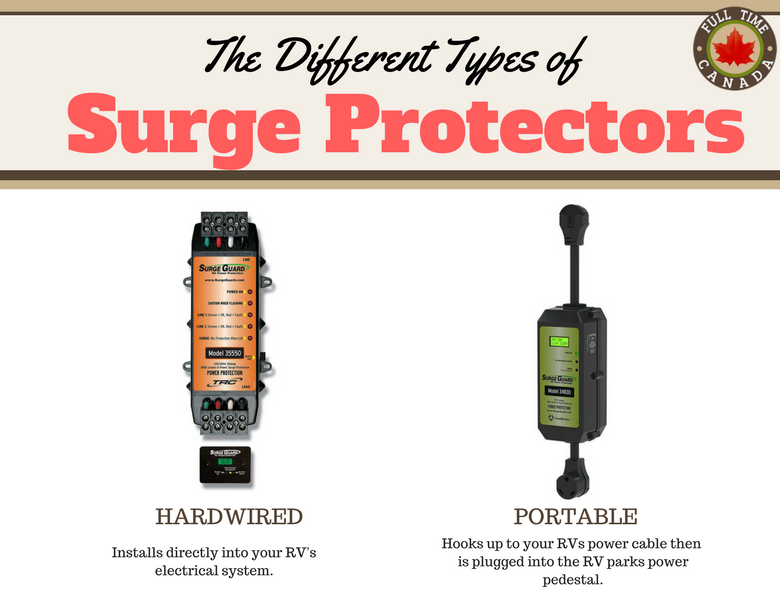 How A Surge Protector Saved Our RV
One morning, Kate & I went to the gym for just over an hour. Upon our return, we discovered that we had no power. Because it was daylight, I couldn't easily see around us to see if any other RVs or park lights were working so I went and checked the surge protector knowing it would tell me the story. If there was no display on the surge protector that would mean that power was out across the park. Or it could be out for another reason and the surge protector display screen would tell me why.
As soon as I checked, I had to do a double take. The display had indicated that the plug was too hot and as a result, it shut the power off to our RV. After gathering Kate, we pulled the surge protector plug from the power pedestal. As soon as we looked at the plug we realized how lucky we were.
Both the surge protector plug & the pedestal outlet had begun to melt. If we didn't have a surge protector, electricity could have continued to flow causing a fire at the pedestal. Our RV could have also easily burned to the ground if a fire had not been extinguished quickly. Not only could we have lost our house, but we could have also lost both our dog & cat which would have been beyond heartbreaking.
Needless to say, we're very happy and relieved that we had our surge protector. While it cost us $400, we're much happier with that cost rather than the possibility of having lost our RV, belongings and most importantly our pets.
Whether they save you thousands by protecting your RVs electrical system & appliances or they save your RV from burning to the ground, a surge protector should be one of the first pieces of equipment you purchase along with your RV.
Do you have a surge protector? Has it ever saved you from disaster?