Life is filled with having to make difficult decisions and often with those choices comes the difficulty of having to tell those closest to you about your recent decision. Generally with a big decision like this the reaction from friends & family can be unknown. Friends and family are always there to support you, but they often want to protect you, and as a way of protecting you, don't fully encourage your initial decision. Naturally, Adam and I felt a little nervous telling our friends and family about our decision to full-time RV while also giving up our jobs in radio.
Why was I nervous? Well, there is a stigma around living in an RV – at least where I grew up in Southwestern Ontario. If you lived full-time in an RV or a trailer, you were typically poor, with either a lot of cats or children – or maybe both. You may be on social assistance, doing drugs, and eating chicken fingers and jalapeno chips.
Naturally, when we told our friends and families about our new adventure, there were a lot of questions with their initial reaction. We knew that this would be the case. It's a totally foreign idea to most people to give up the security of their 9 to 5 job and their home and trade it for a full-time home on wheels.
Here are some of the questions we were asked from friends and family after telling them about our decision to full-time RV…
"But Why?"
This seems to be the first reaction that people would have as soon as we told them that we sold all of our stuff and we were going to be living the full-time RV lifestyle. Why? It's more like why not? When we were discussing the full-time RV lifestyle we quickly realized that in a lot of ways, society has it backward. Society tells you that you should work hard from 20-65, so that when you're 65 you can live a nice relaxing life as your years slowly wind down. Here's the unfortunate truth about the way society has things set up. For many, by the time you've reached 65, you're no longer in a peak physical condition, thus limiting your ability to do a lot of various activities. Sadly, some might work hard towards 65 and never get there. The next day is never guaranteed so take advantage of each one you do get.
It sounds a little morbid, but we realized that we should stop sacrificing the best parts of our adult lives to working – not that we're completely given up work. We thought, "Why not do things in reverse?" Instead of waiting til we're 65 to travel around the country, let's do it while we're young and we can physically pretty much do anything that we want to do. Unless it's an insane climb, no hike will be too much for us at our current ages. At 65, things could be totally different.
We can already predict that along our journey, in various RV parks across Canada, when we tell retired couples of our adventures, a lot of them will likely say something like, "Wow – I wish we did that when we were younger. Good for you!" We don't think that because we're overconfident in our plans, but because a lot of the people outside of our family and friends that we told our plans to, that's what they say and it makes us feel happy and reassured when we do hear that.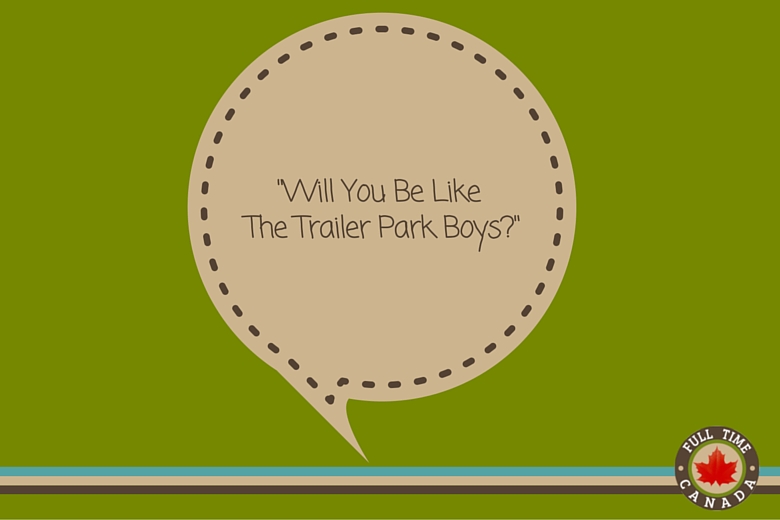 "Will You Be Like the Trailer Park Boys?"
As much I love the Trailer Park Boys
, we would not be living like Bubbles in a shed, or eating bluejay burgers with Randy in an unkempt trailer. What we are not doing is moving to mini-home parks aka trailer parks. There is a large stigma with these types of parks, largely based on shows like the Trailer Park Boys. Sure, there are likely trailer parks that have characters that closely resemble Ricky, Julian, and Bubbles, but there are also beautiful mini-home communities all across Canada that allow Canadians to live at a lower cost. For us, though, we would be living in RV parks and campgrounds. A lot of these parks are for tourists, and could include parks owned by the Canadian government or provincial parks. We have looked at parks all across Canada that focus on RV's and there are so many beautiful potential "homes" for us. A lot of the time, the reaction that people have if you are in RV park is that you are sandwiched side by side. That does happen, but there are plenty parks out there that have spacious sites. These parks are filled with tourists or seasonal RVers who are living a fantastic life close to a gorgeous Canadian beach, mountain or forested area.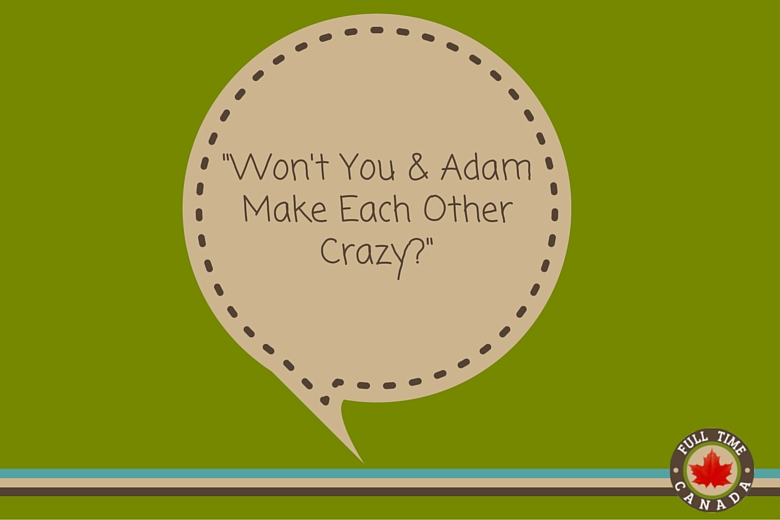 "Won't You and Adam Make Each Other Crazy?"
Sure, an RV is tiny and condensed compared to a traditional home. It's an obvious reaction from people that the tiny space would cause many future feuds. It will be close quarters for Adam & I. My sister told me she could never live in a tiny RV with anyone. I get that, but for Adam and I, we know when the other needs space. There will be times where we drive each other crazy but we feel it is not going to be an issue. Anytime one of us needs some space, we can give it because we have multiple rooms in our RV and we can also just step outside and instantly be able to enjoy nature. We have lived in some tiny spaces before and we never really had any issues. Plus, we recently lived in a tiny motel before moving into our full-time RV which was great practice for us living in a really tiny space and we didn't seem to have many issues.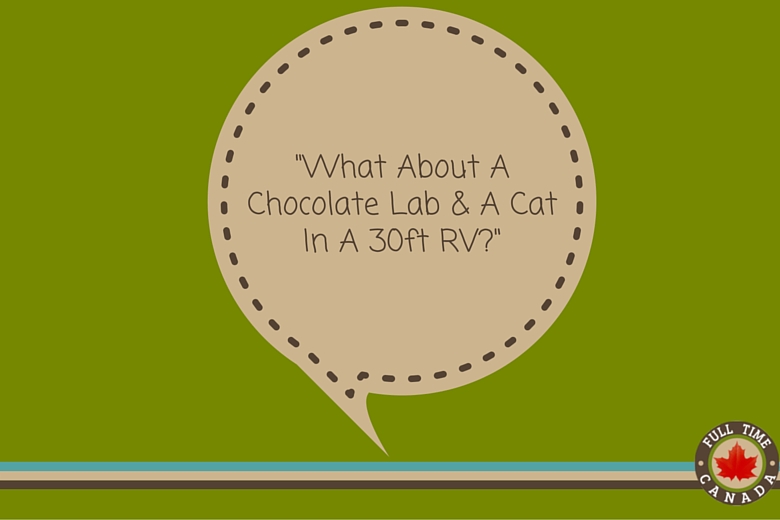 "What About A Chocolate Lab and a Cat in a 30 ft RV?"
After I told my friend Sarah about our decision to full-time RV, her reaction was in regards the animals. She was worried about Paris Frances being in the RV. I told her, "Yes, Bella and Paris in a 30 ft RV." Here is the thing about our animals. Whenever we are home, for the most part, we all end up in the same room together. When we lived in our country home, all of us, were often within a couple of feet from each other. Again, when we lived in our tiny motel room, Bella and Paris actually seemed to get along even better, often sleeping closely to one another on the bed. The bonus for Bella is that we will be outside more and also working closer to home and checking on her more. That makes me so happy, I tear up just thinking about it (I love that dog so much). As for Paris Frances, we're happy knowing that she'll have lots of easy access to windows in the RV, so she'll be able to guard the trailer against mischievous birds.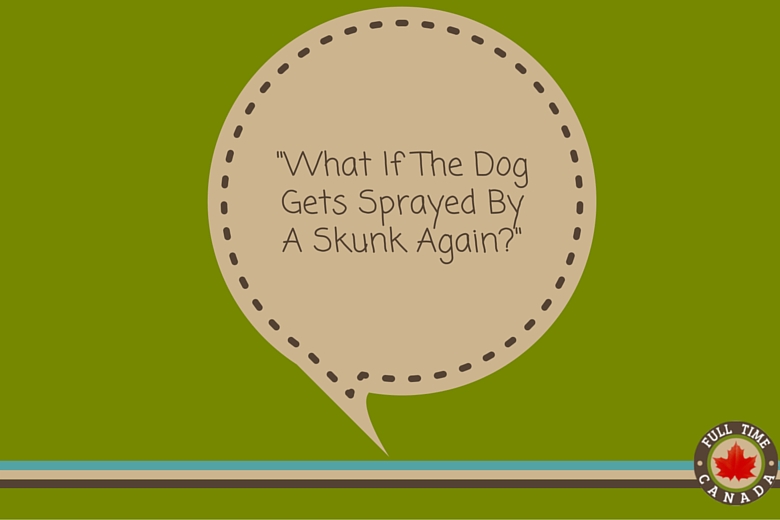 "What If The Dog Gets Sprayed By A Skunk Again?"
"…just imagine that skunk smell in an RV," my sister asked. Ok, you kind of got me there. Bella was sprayed by a skunk twice last year and she stank so bad, I almost got sick the one time. We have learned from that. We always keep Nature's Miracle Skunk Odor Remover
 on hand, which is amazing at getting rid of the smell quickly. I wish we had an outdoor shower with the RV but since that isn't an option, we can always buy a big tub and bathe her that way. Let's hope that situation never comes up – fingers crossed.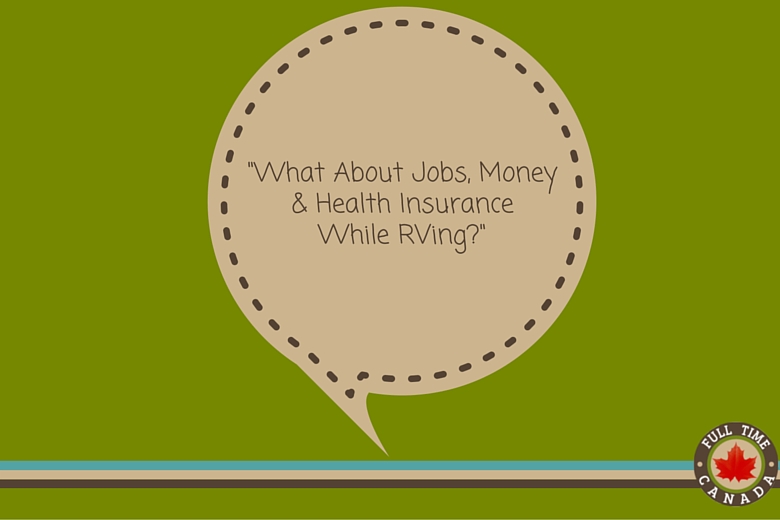 "What About Jobs, Money & Health Insurance While RVing"
My mom wasn't worried about these things, but rather curious. "How will you keep your health insurance with the province?" "What about filing taxes?" "What will you do for a living?" The plan is that will become permanent residents of British Columbia, which will be our winter home base. We will have an actual legal address and access to health care and we will file our taxes from BC. It is doable in this incredible country of ours. You just have to know the rules and abide by them.
Jobs will be taken care of because I will be doing one or many of the following things – waitressing, Workamping, retail, odd jobs – I'll do whatever it takes to pay the bills, as long as it doesn't load me down with stress. Adam and I also have a few ventures figured out for working at home to bring in some extra income. Trust me, we are resourceful and will have no problem making income as we move around and because our expenses will be reduced, there will be less pressure to have a well-paying job. A job just about anywhere should be able to financially cut it for us.
"What About Your Stuff?"
This was a common reaction that we answered multiple times. It didn't take me long to figure out that stuff is exactly that – just stuff. The majority of our belongings have limited use and no value – that's why we call it "stuff." I could take my grandmother's antique dressers with me everywhere. They are beautiful. But they are not my grandmother. We hold on to so many things because they are heirlooms and there is absolutely nothing wrong with that, but for me, I choose to remember my grandmother for the traveler she was. She would love that I was doing this. She would encourage me to see everything I possibly could.
When we were downsizing our belongings, there were some tough decisions whether to sell or keep. In the end, though, all of my books, the coffee table I loved, those are all just things, and if I have to choose between an adventure of a lifetime like this and "stuff" well, I choose adventure! We didn't really have too much difficulty when deciding to sell our belongings. At first, Adam wasn't sure about whether or not he wanted to keep and store his record collection, but he realized that selling the collection would allow us to be more financially free at the beginning of our adventure. So, the records went and Adam says he doesn't really miss the collection, which is good.
Our family members were definitely a little shocked that we sold some of the items that we did sell. We get that. For decades, we accumulate and hold on to things. In a way, it's a strange relationship between yourself and an item and the longer you're in that relationship, the harder it is to get rid of it. So, to tell your family that you sold your grandmother's antique dressers or that guitar your parents bought for you when you were a teen can be a little bit of a shock to them. We tried our best to tell our families that it's really just "stuff" and that the money we made from selling "stuff" will allow us to go on an adventure of a lifetime. Even if they could never do it themselves, they definitely started understanding our decision process more and more as time went on.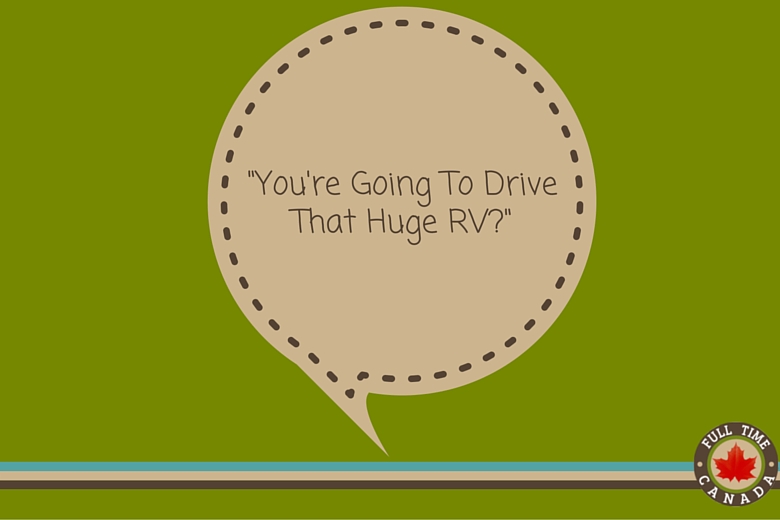 "You're Going To Drive That Huge RV?"
If you asked a lot of people to drive an RV, you could bet that their reaction would be one of anxious skepticism. I'm not afraid to try anything, so driving a huge RV across Canada doesn't really phase me. Sure, I'll be a little bit nervous when I first pull the rig onto the road, but I'm completely confident in my abilities to drive an RV. I always remind myself, "You're smart and there are so many people that drive RVs, so you can totally do it." I think Adam is definitely nervous to drive the RV, but we'll get him on the road in a less busy part of Canada and he'll become comfortable in no time.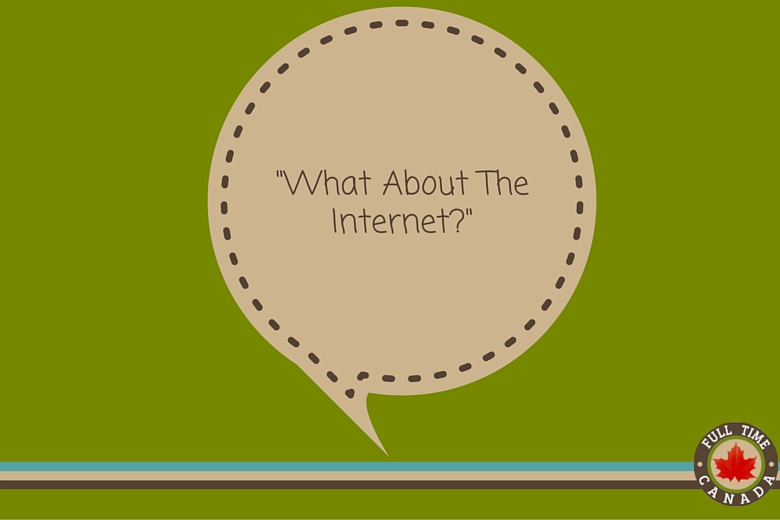 "What About The Internet?"
There's no doubting it, the internet has a strong influence on everyone's lives these days. So, if you told most people that they would have limited/questionable internet access, they would not have a positive reaction. Moving from a house into an RV it was a small concern for us because we are dependent on the internet for so many things. Most RV parks do offer wi-fi for their guests, however, if you read campground reviews, you'll often find that RVers complain about wi-fi connections all the time. In a park filled with guests, wi-fi can be at times pretty much useless unless it's a strong connection to begin with.
There are some ways to deal with slow wi-fi should that become a problem throughout our travels. There are wi-fi boosters

and turbo sticks which can help alleviate the issue. Also, and perhaps a bonus to having poor wi-fi is that you can go to various cafes or wi-fi hotspots which will get us out of the RV too. It'll no doubt be a bit of an adjustment at times but one we're more than willing to make for the life we will be living.
It Wasn't All Skeptical
With such a big lifestyle change, it was understandable that people would be skeptical about our decision. However, there were a lot of positive reaction to the decision. All of Adam's friends that he told were very excited for him, often saying that they wish they could be brave enough to do something similar.
When the decision was first made to embrace the full-time RV lifestyle we were excited but nervous about telling our friends and family. Now that we've told everyone our plans and answered their questions, we must say we're even more excited for our adventure because we have the full support of our friends and family.
Have you ever made a big change that people questioned? What was it and what was the reaction from your friends & family? How did you prepare for their reaction? Comment Below.