Like any good Mum and Papa, we want the best for our Bella and Paris Frances. Moving with your pets can be stressful for your fur balls. We're doing a MONTH of travelling/moving with our furry loved ones. Planning for their comfort and safety while travelling across Canada is a priority. With that in mind, we decided to enlist the help of an expert.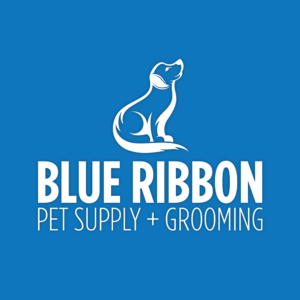 Back in 2010, I met Colin Scales when he first opened Blue Ribbon Pet Supply in Charlottetown. His store has really grown over the years, and we trust him because we know he is as crazy about his own pets as we are about ours. Colin has Siberian Husky puppy Kiera as well as Rupert, who is a border collie mix.
What I really like about Blue Ribbon Pet Supply, is when you go into the store Colin is super laid back and friendly. He also will give you the best options if you are on a budget. I've never had a dog groomed at Blue Ribbon Pet Supply but I have seen some dogs go into the groomer and come out looking absolutely beautiful.  
My main goal when visiting with Colin was to find out the most recent innovations in pet travel supplies and get Bella and Paris stocked up for the trip. When you walk into Blue Ribbon Pet Supply, the store is spacious and bright. There is usually also a few 4-legged visitors wandering around which of course is always welcomed. When Adam and I visited with Bella, there was also little Kiera hanging out in the store. She is so cute!
Ok, back to the important stuff, I could look at puppy pictures all day. I have read all kinds of stuff on the internet about travelling with dogs, but I needed someone to give us expert advice about travelling in in our vehicle with a dog and cat. I also had a lot of questions about hiking with Bella once we get to B.C. Here is the Q&A that I had with Colin…
---
Water For Your Dog
Kate – What is the best way to carry water for the dog? I know it may seem obvious to many that just use Tupperware, but that isn't always the easiest. Because we live in the RV and we want to live minimally, is there a type of travel water dish that I can take hiking and also use in the vehicle?
Colin – H2O4K9. This is the best product I have found out there for hiking with your dog.

---
Car Sickness
Kate – Bella is very good about riding in the truck but I know a lot of dogs get car sick. What do you recommend for that?
Colin – First, consult with your vet for remedies as they have lots of helpful options. There are natural remedies but if you are worried at all, check with your vet.
---
Cat Crates
Kate –  I have crated cats while in a vehicle and I find they meow a lot when you do that. We have found that Paris Frances is terrified in a crate. We are planning on having her travel in a harness and leash. We have taken her to the beach in PEI and just popped on her harness and took her in the truck. She was great!  I am a bit worried though about her travelling this way for weeks. Are there any other options?
Colin – Cats can turn into escape artists on the road, so it is recommended to keep them in sturdy, well-ventilated carriers that are big enough for them to stand up and turn around in comfortably. Line the carrier with a towel and a tiny litter tray, and secure the carrier to the seat with a seat belt. However, if you are going to have Paris Frances loose, it would likely be best to just make sure you block any escape routes she could take if you open a truck door.
---
Seat Belts
Kate – I have heard pros and cons about seat belts for dogs. Do you think we should get one for Bella?
Colin- Dogs are safest in a kennel or restrained with a canine seat belt.  I recommend Canine Friendly Vented Vest Harness for dogs, we sell them in the store and it works very well.
---
Frequent Stops
Kate –  We only plan on driving 6 hours a day, I am hoping Bella and Paris will be ok travelling like that as we make our way across the country. Any tips?
Colin – Just plan on making frequent stops, just as you would if small children were along for the trip. Stopping frequently for potty breaks and opportunities to burn off pent-up energy will help to make Bella a happy traveller. If it is a quiet spot, it is good for Paris to go out on her leash to stretch her legs, too.
---
Microchips & Tags
Kate – Bella and Paris are not micro chipped and I really don't want to put them through that right now. I'm wondering about getting them tags instead?
Colin – At Blue Ribbon we use Red Dingo tags.  They have really cool designs and it is high-quality material, so it doesn't break down.   
---
Water Collars
Kate – I want to get a new collar for Bella, the one she has now is faded, and with all of the water activity she does, it is a bit stinky!
Colin- Do you have a water collar for her?
Kate– I didn't even know they had specific water collars for dogs. Bella is constantly in and out of the ocean, or any river or body of water she can find!  
Colin – This water collar made by Dublin Dog will not stink and it's perfect for dogs that are active in the water. I typically just carry one in the trunk of the car and switch it when I take my dogs to the beach. For a regular, everyday collar, I really like RC Pets collars out of British Columbia. They are durable and sturdy and I use them on my own pets. I try and source Canadian products whenever I can.
---
Hiking
Kate –When hiking with Bella what products do you recommend taking?
Colin – A bear bell for where you are going in British Columbia. A pet first aid kit is always good to throw in your backpack. If you are taking Bella camping, keep a small bottle of Skunk Off with you too. It's also very important to bring along poo bags. Earth Rated poop bags the best bags you can get that are tough, leak resistant and they have a nifty dispenser that you can attach to the leash.
Kate – Colin, thank you so much, you have given us so much useful info and we can't wait to take Bella travelling and hiking in Tofino B.C. These new products will surely make our lives a little easier and less smelly!  
If you would like more information on Blue Ribbon Pet Supply check them out on Facebook or give Colin a call at (902) 370-3373.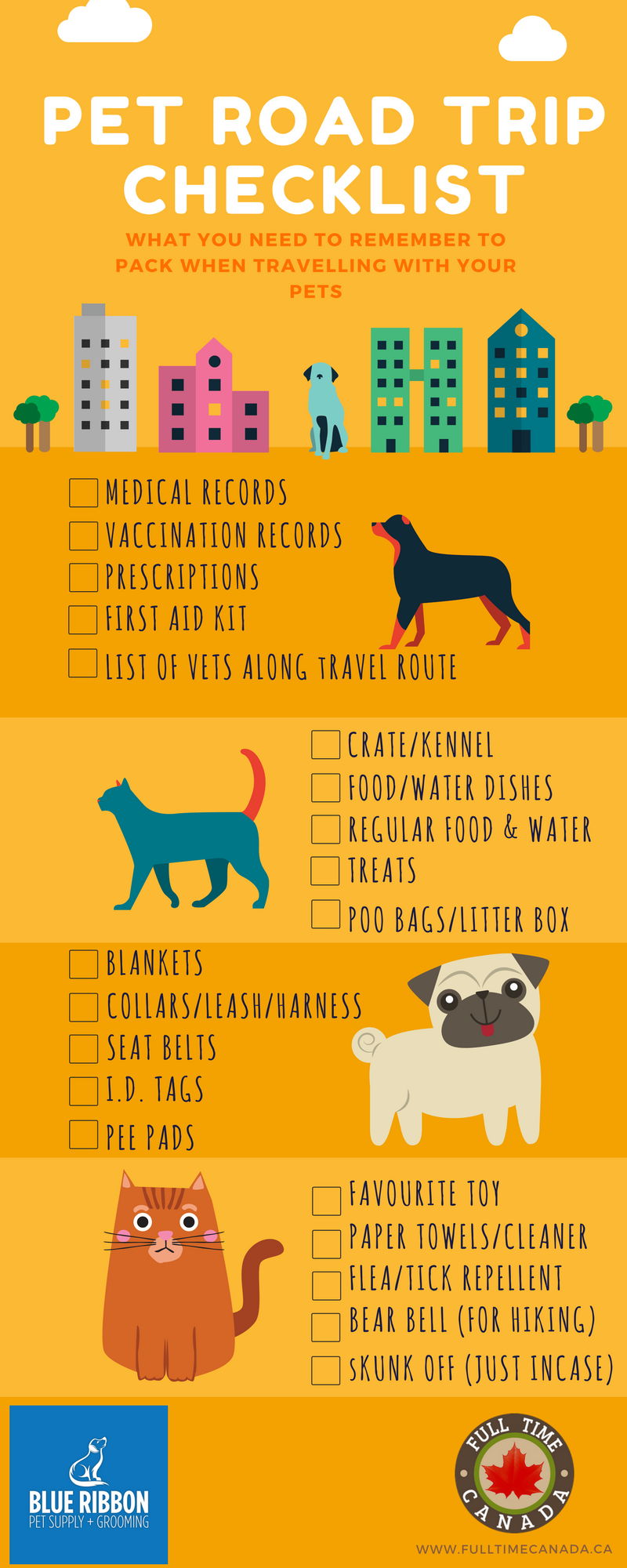 What advice do you have for travelling with pets?
Wanna read more articles like this, stay up-to-date with our journey, and even win some prizes? Sign up for our newsletter at the top of the page.
---
*Disclaimer. Full Time Canada is a participant in the Amazon Services LLC Associates Program, an affiliate advertising program designed to provide a means for sites to earn advertising fees by advertising and linking to amazon.com. If you purchase something from Amazon, it helps us fund our journey – so thanks, we appreciate it!