In September of 1864, the Charlottetown Conference was held to discuss the possibility of uniting the various provinces into one country. It would take a few years, but eventually, the birth of Canada took place on July 1, 1867 with Ontario, Quebec, New Brunswick and Nova Scotia joining Confederation. Interestingly, it wasn't until 1873 when Prince Edward Island would join. When I was thinking about where I wanted to celebrate the 149th birthday of Canada, it was a pretty easy choice. I'd be silly not to hang out in the city known as the Birthplace of Confederation, right? I'm sure glad I made the choice to do so as it turned out to be a fantastic day.
My Partner in Crime
When I had decided that I was going to spend 12 hours in Charlottetown for Canada Day, I knew that I had to have someone join me. Unfortunately, Kate was working and wouldn't be able to join. Because I'm not from the Island originally, my pool of friends is quite shallow but I fished out the perfect companion for the day.
Isaac is a friend that I met at work a few months back when I first started working in Summerside. He had never previously been to Prince Edward Island before March and I knew that he would be the perfect person to have on my wing for the day. He knew little about Charlottetown and would soak it up like a tourist would and hopefully have a fantastic day.
Planning The Day
With the place and my partner in crime all set, I now had to decide what the heck we were going to do over the course of 12 hours. I knew that the day would end with fireworks in Victoria Park around 10pm. From there, I decided to plan backwards to fill out the day with fun-tivities and of course, great food. By the time Canada Day had rolled around, I had done enough research and planning that I believed that the day was set and would go smoothly. How do you think that went? Well, no plan ever goes 100% as planned, but overall, when we had to make adjustments we did. Here's how the day went….
Arriving in Charlottetown
I picked Isaac up at 10am in Summerside and proceeded to drive to Charlottetown. About 7.5 minutes into the drive Isaac proclaimed that he had been up until 6am playing Call of Duty
and was tired. I told him to have a nap and he didn't hesitate to take me up on that offer. The car seat was reclined and he was out cold for the next 40 minutes while I listened to live Tragically Hip
. Upon arriving in town, I decided that we should park in a spot far enough away from the busy parts of town that it would make it easy to get out of town at the end of the day. The great thing about Charlottetown is that it is a walking city. You can pretty much walk anywhere within the city that you would want to go within twenty minutes. We parked at the parkade at the Atlantic Technology Centre which is pretty centralized for the downtown core.
Province House/Confederation Centre of the Arts
My first planned activity for the day was to stop by St. Dunstan's Basilica, a stunning twin peak church that I had never been in. Like I mentioned, no plan ever goes 100% as planned and right away as we were walking towards the church, I noticed that there was a large gathering in between Province House* and the Confederation Centre of the Arts**. As we walked towards the large gathering, we were approached by a woman who told us that there was a free 50-minute show about to start called The Voices of Canada. The Confederation Centre Young Company was putting on the show. They are a group of young adults who are some of the countries finest young performers.
The performance was truly amazing and I was really glad that we stopped to watch it. The show told the story of Canada through various songs, acts, and dancing. I was really impressed with how polished these young performers were. It was a fun and entertaining show to watch and enjoy for 50 minutes. I highly recommend that if you're coming to Charlottetown this summer that you make sure you find the time to enjoy this show. They perform the show every Monday-Saturday at noon until August 20th. Besides the actual entertainment, the best part is that is absolutely free for you to enjoy.
Once the show had concluded it was announced that there would be a 20-minute show happening outside the doors of Province House which would feature a reenactment of the events that would lead to Confederation. We quickly walked to the mentioned area and grabbed ourselves a spot to sit while the town crier was trying to persuade others to come and watch.
For twenty minutes, we sat and listened to the various actors in their period clothing reenact some of the events that eventually led to Confederation. It was a really good performance that allows you to learn a bit more about some of those events that took place, specifically from an Islander's point of view. The performance even featured a slight dig a Donald Trump which was witty and always welcome.
If you are in town, you can enjoy The Confederation Players' Historic Vignette Tuesday-Saturday at 1 p.m. and it's free as well. They also do historic walking tours throughout Charlottetown which I really wanted to do but they didn't start until July 2nd. Both the free show and the historic walking tours run until August 20th.
*Province House is where the Charlottetown Conference was held in 1864 and to this day continues to be meeting grounds for PEI's Legislative Assembly.
**The Confederation Centre of the of Arts is a large building that includes a theatre which hosts many fantastic shows each summer. There's also an art gallery, restaurant, and the public library within the same building.
Lunch Time
By the time both of the above shows were completed, it was after 1pm and both Isaac and I were quite hungry. We walked down the historic and beautiful Great George Street passed St. Dunstan's and the beautiful buildings of the Great George Hotel to eventually make our way to the Peakes Wharf. From there, we took a quick walk over to Founders Hall where we would stop for lunch at Dave's Lobster.
I knew that Isaac had never had a lobster roll before and I certainly enjoy them, so I knew that this was the perfect spot to stop for lunch. Surprisingly, the spot was dead but that was ok for us. It allowed us to quickly order our lobster rolls and to enjoy the feast before moving on. I recommended to Isaac to get the traditional lobster roll which also came with a bag of Covered Bridge chips. While we were eating I explained to Isaac what covered bridges were and shared my story of visiting Hartland, New Brunswick where the chips are made and also where the World's Longest Covered Bridge is.
Now that we had fueled up with our main meal, it was time for dessert. After doing our factory tour of Cows Creamery last month, I've been hooked on their ice cream since. In fact, I start to twitch when I go without it for any prolonged periods of time. Again, Isaac has never had the treat of enjoying a Cows ice cream cone. We walked back over to the Peakes Wharf, walked into Cows and ordered some delicious treats. If you read our article last month, you know that Cows has many terrific, customized versions of their ice cream like Mooey Gooey, Wowie Cowie, Cookie Moonster and many more. With so many terrific flavours to order from, what does Isaac get? Strawberry. I laughed a bit but he enjoyed it nonetheless which is the main thing.
We enjoyed our cones while soaking up some entertainment in the Peakes Wharf area which features a restaurant/bar and many local shops. It's a great spot on the water to spend a few hours if you're visiting this summer.
St. Dunstan's Basilica
Originally, we were supposed to stop at St. Dunstan's Basilica as our first stop on our daily itinerary. That didn't happen, but I was set on still making it to the historic church. When you're in downtown Charlottetown, you can almost see the twin peaks of the Basilica from anywhere. I've used those twin peaks many times to help guide myself around the city.
When you first walk up Great George Street and close in on St. Dunstan's you notice how massive it really is. It is gigantic! It was originally built between 1896 and 1907 and then again in 1913 after a fire had destroyed it. We walked up the large set stairs towards the large wooden doors. I was sure it was open to the public but I was still a bit nervous about my approach for some reason. As we entered the wooden doors, I could see that it was indeed open and that there were a small group of people in the large church. As soon as you walk in you are in awe. The construction is absolutely stunning as it was done of the High Victorian Gothic Revival style. It's quite a sight to see, that's for sure. If you're a fan of seeing new churches don't miss this one. This is as good as it gets on Prince Edward Island. It's also a nice and quiet place to stop by on a hot day for a quick break out of the sun.
Sydney Street/Victoria Row
After we were done visiting St. Dunstan's we were back on our feet trekking through the old, narrow streets of Charlottetown. Near St. Dunstan's is both Sydney Street and Victoria Row – two of the most popular streets in the downtown. Sydney Street is host to some of the better dining you'll get in Charlottetown with restaurants like the Gahan House, the Olde Dublin Pub & Claddagh Oyster House, and Sims Corner Steakhouse & Oyster Bar. At all of these spots, you can enjoy some delicious food and local craft beers which is a great combo on a hot day.
Originally, I had planned on visiting the Gahan House to take Isaac on their brewery tour after which we would then grab a seat and have some dinner. Well, that didn't go exactly as planned. When I entered the Gahan House I asked about doing the brewery tour at which point I was told they no longer do them there. Back when I lived in Charlottetown from 2010-2012, the Gahan House was doing brewery tours in the basement of the Gahan House where they show you how they make their many flavours of Gahan Ales. Unfortunately, the Gahan House is no longer doing the brewery tours as they are now being held at the Prince Edward Island Brewing Company location on Kensington Road. I'm sure the new tours are great, but there was a certain charm about the tour inside the basement of the historic Gahan House.
Once we received the news that there was no brewery tour, we were on our way, back on the streets making our way to Victoria Row. During the summer months, Victoria Row is a hot spot to be. The street is closed down allowing pedestrians to walk freely along the historic cobblestone row. On the Row, you can grab a coffee, do some shopping for local crafts, enjoy some great food and even take in some of the many performers. Victoria Row is both a great place if you're a tourist or a local as you can easily spend a few hours there relaxing while having a nice meal and enjoying some entertainment.
Because it was Canada Day, the Row was actually quite quiet but it is usually a bustling area of town during the summer. We quickly stopped into the Anne of Green Gables store on the corner of Victoria Row and Queen Street. It's a large shop and what I would imagine to be a dream world for any Anne of Green Gables fans. Instead of purchasing any Anne related souvenirs or gear, I purchased a PEI Mussel Shirt. I had been joking for a couple of weeks that I needed to get one of these shirts for when I'm cleaning the pool at Jellystone. It's ironic because I don't actually have any muscles. Before leaving, I asked Isaac if he wanted to get anything. He had mentioned earlier in the day that he was interested in the Anne of Green Gables
book set. As much as that would be something nice for him, he didn't bring a backpack and I wasn't volunteering to lug around a large book set in my backpack all day either. He understood the logic and looked at some smaller souvenirs before we left.
Victoria Park Pt.1
After leaving the Anne store, we were kind of tapped for what to do. It was a little too early to eat dinner but we weren't quite sure what to do. I quickly decided that we should venture over to Victoria Park to see what was happening over there. Each year, the Charlottetown Canada Day festivities are held in the park. Victoria Park is an amazing place most days but on Canada Day it's a booming spot with live music, rides for the kids, food trucks and a lot more.
Victoria Park truly is a Charlottetown gem, originally a gift to the Island from Queen Victoria back in 1873. The park is 40 acres of waterfront property that is only a short walk from the downtown. There's a wonderful boardwalk that winds around the coastal portion of the park allowing you to soak up a good walk while watching the sail boats or the herons eating during low tide. When we used to live in Charlottetown, Kate and I frequented the park because it's just so beautiful.
This was Isaac's second time in the park, however, his first trip was in the dark so he didn't really get to enjoy it properly. We quickly checked in on the festivities before walking along the boardwalk to the end of the trail at the Brighton Beach Lighthouse. The tide was out so I asked Isaac if he wanted to get adventurous and go walk on the ocean floor. He immediately said, "NO!" Eventually, I told him that he needed to have a sense of adventure and once he agreed, we climbed over the red stone sea wall and onto the ocean floor. When we got down I noticed immediately that what I had thought was rocks everywhere was actually emptied mussel shells that have proven to be good eating for crows and other birds over the years. It was quite a site to see. All of these mussel shells everywhere you would look.
After exploring "mussel beach" as I called it, we made our way back to the festivities for a few minutes. On our way, we had a discussion about dinner. I asked Isaac if he wanted to save some money and just eat at one of the food trucks or if he wanted anything else. He responded with pizza. I was sold. It doesn't take much to convince me to eat a good pie.
Piatto Pizzeria
Once it was decided that we would be having pizza for dinner, we had to figure out where we'd go to get some. I remembered that my friend Ryan Merry – who is an award-winning musician – plays frequently at the Piatto Pizzeria. He said that the food is amazing and the atmosphere is great too. I had never been to Piatto before nor did I even know where it was. I was certain it was along Queen Street somewhere and after a quick search, it was confirmed.
Isaac and I made our way out of Victoria Park (for now) and back into town for a walk down Queen Street. Queen is probably the busiest street in Charlottetown filled with lots of different local shops and restaurants. It's a great starting point if you want to do some shopping in Charlottetown.
After making our way down most of Queen, we came upon Piatto. As soon as we entered, I could see that Ryan wasn't lying in regards to the atmosphere. It's a pretty great spot that is tastefully decorated with the highlight being the big wood oven where they wood-fire cook your pizza.
Piatto is very proud of being an authentic pizzeria. From their website, "Our pizzaiolo use ingredients and procedures regulated by the Italian governing association (VPN)—so you experience a "true" pizza like you would find in the energetic pizzerias in Naples, Italy (but without the airfare)." I had no idea that "authentic" pizza was actually a thing, but I was impressed and looking forward to ordering and eating my pie.
The big decision was looming, though. What pizza was I going to feast on? They have two sections of pizza on their menu. One features a selection of pizzas made with a San Marzano tomato sauce. The other features pizzas made with an extra virgin olive oil base sauce. Both sections had a tremendous amount of fantastic choices but in the end, both Isaac and I didn't order from either section. Instead, we both ordered the pizza of the week. I can't remember what it was actually called, but it featured an alfredo base sauce with mozzarella, chicken, bacon, and mushrooms.
After it's wood-fired in the oven, they bring the pizza to you on a big plate to enjoy. Both Isaac and I were really impressed with our pizzas. They were light but very tasty. The crust was kind of flaky and not really doughy which I had never experienced with pizza before. That being said, I really enjoyed it and I definitely would go back for another one. If you want to get some delicious pizza while in Charlottetown, this is the spot. They also have locations in Cavendish, Halifax, St. John's, and Moncton.
Victoria Park Pt. 2
After we had filled our faces with delicious pizza it was time to head back to Victoria Park to wrap up the day. We took another route back to the park through the old and historic streets near the park. Once getting back to the park, we parked ourselves on the lawn in front of the stage where we watched the entertainment for the next couple of hours. We got to enjoy the Johnny Oliver Band, Copy Cat and one of the better cover bands you could ever see – the Love Junkies. Admittedly, we were both quite pooped by this point. I laid down in the grass and propped my head up with my backpack while Isaac sat cross-legged and fell asleep hunching over. Eventually, some girls came over and startled him awake while offering him a Canada thunder stick.
Once the music was over, it was time for the fireworks. I had been looking forward to the fireworks all day, just like a kid does. This was the first opportunity that I had to shoot long exposure shots of fireworks. I was interested to see how well I could do it. The fireworks were great, however, they were a little shorter than what I was expecting. I remember seeing the fireworks in Charlottetown during Canada Day a few years ago and the show seemed like it would never end. Therefore, I was kind of disappointed that this one ended relatively quick. It was still a great show though and in the end, I think I got some good pictures of the fireworks.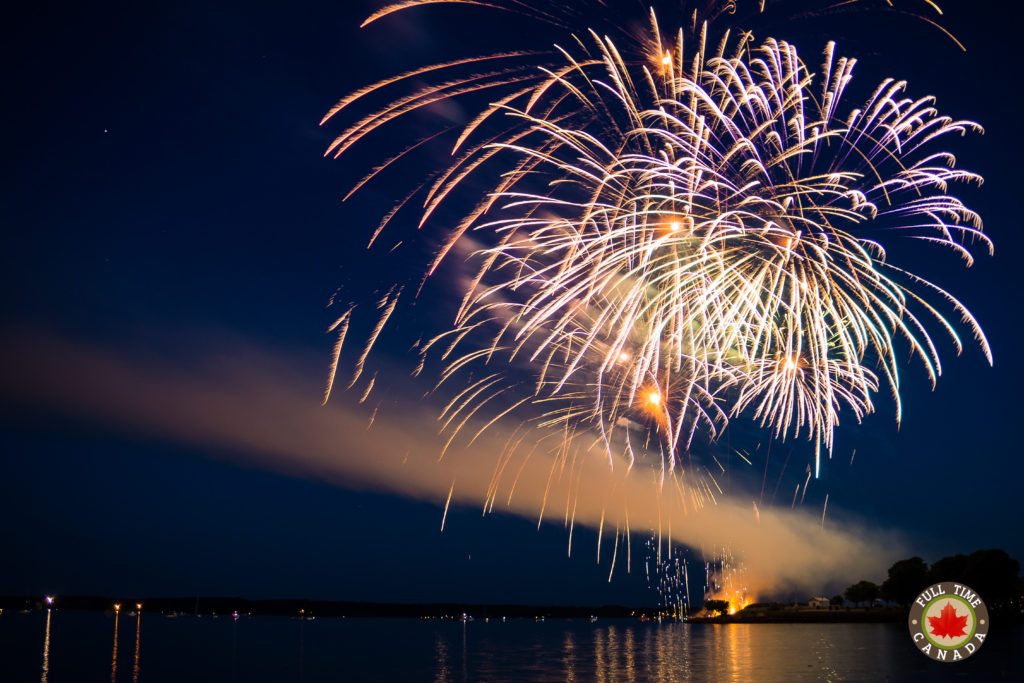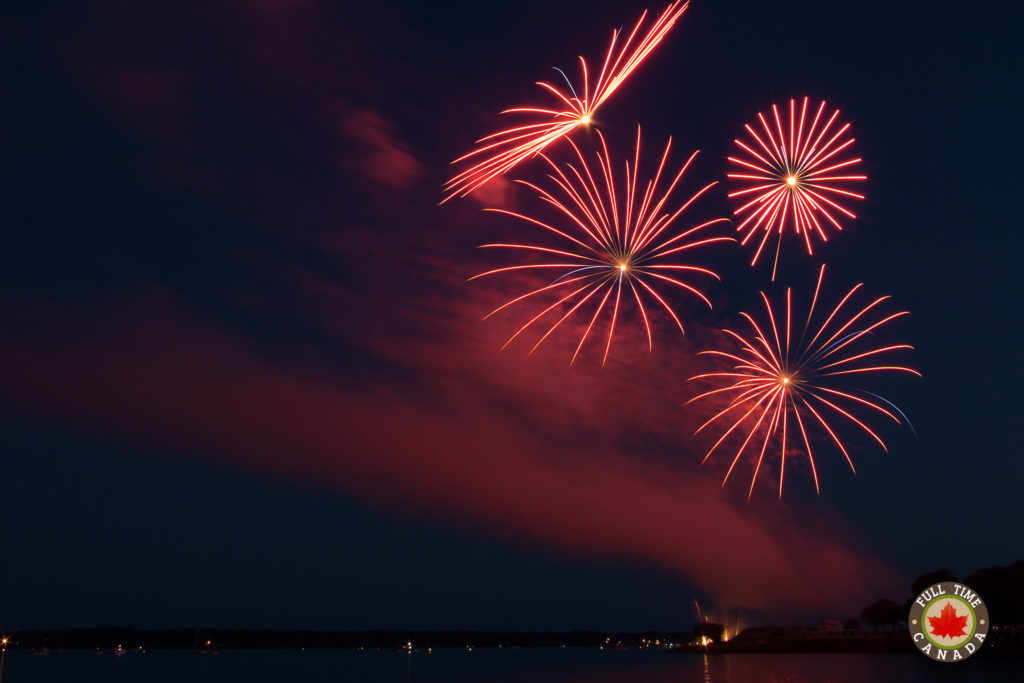 Calling It A Day
12 hours in Charlottetown. It was a lot of sun, heat and walking but both Isaac and I had a great day. I hope that if you haven't been already, that you can make it to Charlottetown this summer for a vacation. It's one of my favourite cities simply because it has great food, great sites to see and it's really easy to get around on foot. If you are coming and would like more information on planning a great day or two in the city, don't hesitate to comment below or send a message through email of any of our social platforms.
Wanna read more articles like this, stay up-to-date with our journey, and even win some prizes? Sign up for our newsletter at the top of the page.
---
*Disclaimer. Full Time Canada is a participant in the Amazon Services LLC Associates Program, an affiliate advertising program designed to provide a means for sites to earn advertising fees by advertising and linking to amazon.com. If you purchase something from Amazon, it helps us fund our journey – so thanks, we appreciate it!