Even though there is still a bit of summer officially left, summer unofficially ended for most of us after last Monday – Labour Day. Tuesday, kids were back to school and no longer are you allowed to wear white. So that must mean summer is over, right?
Like every summer, I'm sure you said to yourself, "I can't believe how quickly it went by." That statement definitely rang true for Kate and I this summer as well. Honestly, we could say that the last year has just flown by. Specifically, though, the summer just whizzed by for us this year. It seems like it was just yesterday that it was the May 24 weekend and here we are now with fall just around the corner.
The summer for us was probably the busiest we've ever had. You've probably noticed as we've been a bit tardy with the number of blogs we've put out this summer. We've both been working a few different fun jobs that have taken up a lot of our summer. But we also had some time to have some fun here in Tofino and other parts of Vancouver Island this summer.
So, what exactly have we been up to all summer? Let's dive in and we'll tell you some of the highlights…
Whales & Bears, Oh my!
Back in March, Kate's sister and niece visited Tofino and while they visited we had the opportunity to go whale watching with Jamie's Whaling Station. While on the boat that morning I made a mental note of how fun it would be to work for one of the many whaling stations in town that specialize in whale & bear tours.
By June, I was indeed working for Jamie's Whaling Station. While I've mostly been working the front desk, taking reservations & checking people in, I also occasionally do get out on the boats as a deckhand. This has been an awesome and rewarding experience.
For the most part, while on the boats we get to see grey whales, seals, sea otters, sea lions, eagles and more. Here's a fun video of a juvenile grey whaled named Snowflake that got close to our boat during our one trip.
While I had seen grey whales regularly while on the boats, I still had never seen Orcas in the wild. In Tofino & Clayoquot Sound, we only have the Transient Orcas which feed primarily on sea mammals. These orcas travel up to 100 miles a day and only pop up in our area every couple of weeks on average.
One foggy morning, as we were making our way back home after watching some grey whales, I was scanning an area known as the Glory Hole where we commonly see Stellar Sea Lions. This morning, through the fog, I couldn't see any sea lions, but all of a sudden a massive black dorsal fin appeared near the rocks. My initial thought was, "That is NOT a porpoise." I followed that thought by running through the cabin of the boat to tell our captain that I spotted the orca. We turned the boat around and proceeded to watch 3 orcas. Here's the video. It's not great but nonetheless, it was amazing to see these beautiful whales for the first time.
While I have seen my fair share of whales this summer, Kate and I also went out with Jamie's on their bear watching tour. The black bears in Clayoquot Sound mainly feed during the summer months at low tide on shellfish like crab. To feed they have to toss rocks to discover their food. It's quite impressive to watch the bears effortlessly toss the rocks. Have a look for yourself…
Birthday Adventure
As I turned 31, Kate took me away to the other side of Vancouver Island for a couple of trips that featured some outdoor fun.
Little Qualicum Falls was our first stop on the journey. The beautiful provincial park is host to camping and beautiful trails. It's a great stop to see a mixture of ancient growth forest combined with some beautiful waterfalls.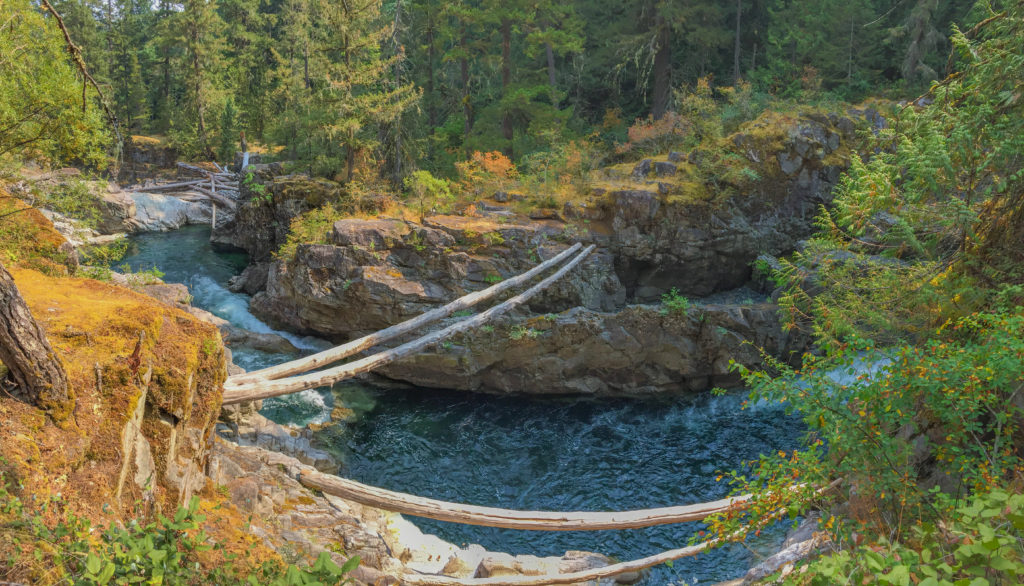 Later that same day we tried something relatively new to both of us – caving. We've both been in caves before but the Horne Lake Caves we visited were quite different. While there are quite a few caves in the area we chose to take a guided tour through one of the smaller cave systems. And when I say small, I mean small in more way than one, specifically how tight the caves were. There were points throughout the experience where anyone bigger than Kate or I would have had a hard time navigating the caves. Even though the caves remain a cool 8 degrees Celsius year-round, Kate did feel a tad claustrophobic at times and even came out of the caves sweating from a small panic attack. It was quite a fun and different adventure for us. We'd like to go back sometime and check out some of the other caves.
The final stop on my birthday tour was to the North Vancouver Island Wildlife Recovery Centre. The centre is home to many animals who have been injured in the wild. Some of these animals are permanently at the centre as their injuries would mean they would likely not survive in the wild if released. There are, however, quite a few animals that are brought into the centre that are rehabilitated and then released again into the wild. We had the opportunity of seeing a lot of beautiful animals, specifically birds up close that we otherwise would likely never have a chance to see that closely.
Viva Las Vegas
For the first time in my life, I recently made my way to Las Vegas to celebrate my father's 60th birthday. In Vegas, I met up with my family including my aunt and grandfather. This was my grandfather's first time flying anywhere so it was quite an experience just watching him throughout the three days we were together. Watching him casually have conversations with escorts that would approach him was a highlight.
Our arrival in Vegas also coincided with the "Big Fight" between Floyd Mayweather and Conor MacGregor. You'd think that Las Vegas would be the best place to watch the fight – not so much. The cost of tickets to the actual fight was a minimum $2700. Tickets to closed circuit viewing parties were $150+. Other than those two options, nowhere else in Vegas could you watch the fight. Rather, by chance, I ended up watching most of the fight with a small crowd gathered around some guys laptop at the hotel bar.
Throughout the trip, I was blown away by how bloody expensive Vegas truly is. A couple of examples. I lost my lens cap for my camera. To replace it I went into the only camera store on the Strip and was offered a replacement cap for $75!!! Insanity. I also unknowingly paid $6 for a small cup of pop at the Bellagio. I'm still a tad bitter about that.
The best Vegas experience we had was on Fremont Street which is essentially old Vegas. It's a pretty happening spot with live music, zip lining over the street, street performers and more. It's also the cheaper side of town. We had a steak and lobster dinner for $12.99. Hard to beat that deal.
How We're Paying the Bills
While I predominately am working at Jamie's Whaling Station, Kate is working as a guest representative where we live at Crystal Cove Beach Resort. She is learning how the resort operates and is enjoying it immensely. On top of that, we're getting close to wrapping up our first season running our own business – Tofino Food Tours.
It's been a fun summer touring guests from all over the world around Tofino. We feed our guests with plenty of food and knowledge about Tofino & Clayoquot Sound and everyone seems to have had an amazing time which is really rewarding.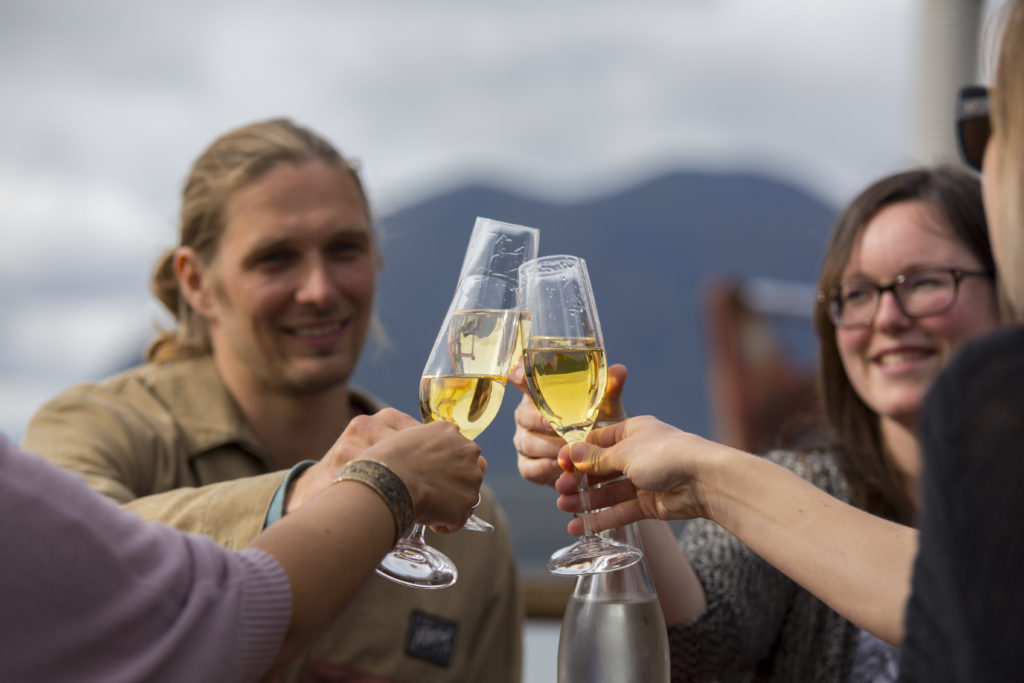 We've also both been using our 30 years of combined radio experience at our local radio station – Tuff City Radio. Since April, we've been doing the morning show from 8-10 each morning. It has been fun to get back into radio again, especially since we're there to simply have fun which is something we weren't really having anymore when we were let go (thankfully) from our radio positions in 2015.
Bella & Paris Update
While I'm sure you don't mind reading about what we've been up to this summer, I'm sure you've really been wondering what's been going on with Bella & Paris Frances. Both are still loving life here in Tofino. Bella spends some nights at work with Kate. So if you stay at Crystal Cove Beach Resort you could meet our beloved little chocolate lab. When she isn't at work, Bella loves wandering our world class beaches where she plays happily in tide pools and sniffs the bums of many other dogs that greet her. Here's Bella playing this summer…
Meanwhile, Paris has become quite a deviant. More so than before believe it or not. She's again become obsessed with drinking water from the bathroom sink. This sink is directly beside our bed so in the middle of the night she started clawing the bed or even us. This is her way of requesting that we turn the tap on. She would do this routine many times throughout the night. Twice within a week, she jumped on my face in the middle of the night. Once she drew blood from my nose. We've since locked her out of our room at night allowing for Kate, Bella and I to have a much more peaceful sleep. Every morning when we open the bedroom door, the little devil is waiting for us. Here she is happily enjoying her running tap…
What's Next For Us?
Seeing as we've now set up Tofino Food Tours, we've essentially committed to staying in Tofino for a little while. How long? We're not sure yet. Knowing that, however, we've decided that we will slow down and travel a bit in the fall, winter, and early spring months before another busy summer season hits us next year.
When this tourism season wraps up for Tofino, in mid to late October, we're going to hit the road. We haven't got an official plan, but we're planning a 4 to 6 week long road trip that will see us travel to Washington and from there travel the US 101. The route will have us specifically travelling down the Pacific coastline of the US which looks spectacular in every picture we see.  Since I was a kid, I've always wanted to go to Astoria, Oregon to see some of the filming locations used in one of my favourite films – The Goonies. Haystack Rock at Cannon Beach is a must and is the only planned part of our itinerary at this point.
This will be one trip where we don't book things ahead of time and rather go with the flow. We've never done this before as I'm a nutcase planner but I'm freeing myself of that for this trip. We're just going to hit the road and see what happens.
How was your summer? What fun & exciting things did you do? What lays ahead for you in the fall & winter?