Introduction to Full Time Canada
Full Time Canada follows Adam, Kate, Bella & Paris on their journey as they full-time RV across Canada. Adam & Kate are former broadcasters who wanted to simplify their everyday life while also being able to travel. Although neither had spent any length of time previously RVing, Adam & Kate knew that full-time RVing would be an exciting change of pace filled with challenges, rewards, and ever-changing landscapes. Thank you for visiting our site. We hope you enjoy following our journey.
Meet the family…
---
Adam Doolittle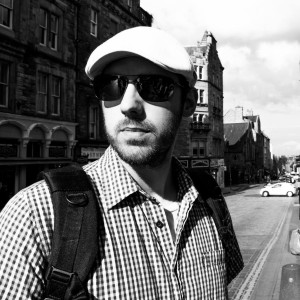 The desire to travel for Adam first started as a kid while he travelled around Ontario playing baseball. Because of hectic summers playing baseball and the usual desire for the family to hibernate during the winter, Adam didn't travel much outside Ontario as a kid, aside from a trip to Disney World as a 6-year-old.  The growing wonder of what existed outside of Ontario carried with Adam until he was an adult and could save up to travel with friends or family. Adam has now been to Cuba, the Dominican Republic, St. Maarten, St. Lucia, Antigua, Barbados, St. Croix, Ireland, Scotland and most of Canada and the Eastern United States.
Fun Fact: Previous to Full Time Canada, Adam had never slept in or driven an RV.
Favourite Spot Visited: Isle of Skye – Scotland
Favourite International Food: Blood Pudding or Cuban Rice
Favourite Road Trip Song: Matt Mays – Terminal Romance
---
Kate McCallum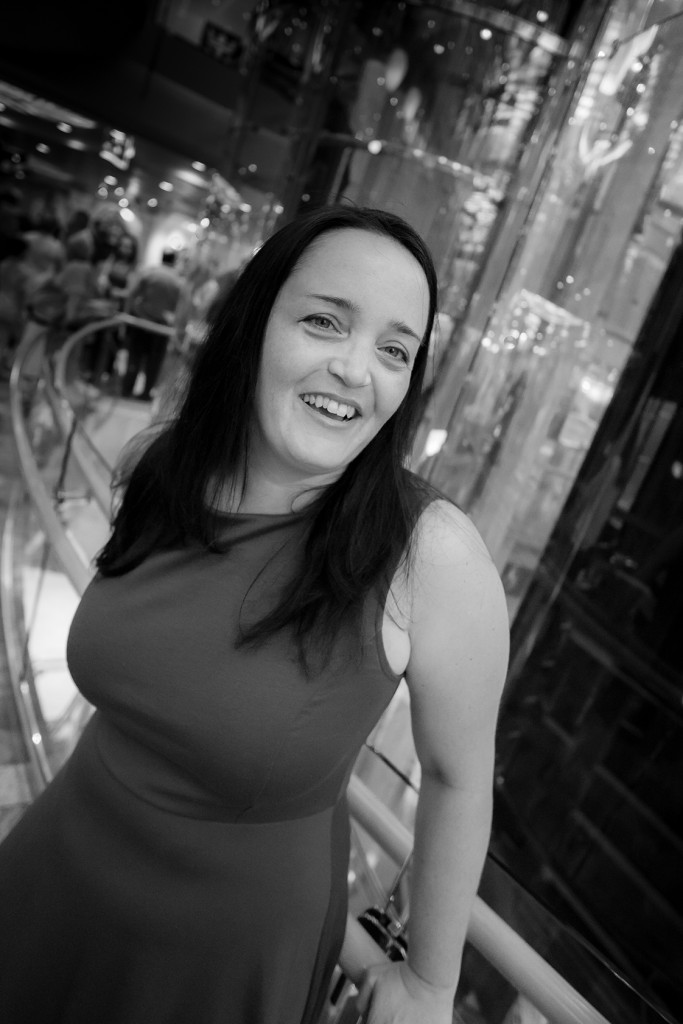 Born in Langton, Ontario, Kate grew up talking too much (according to her siblings) and naturally went into radio broadcasting. After a 20-year broadcasting career, Kate is now hoping to find more time to write and explore Canada. Becoming a travel nut can be credited to Kate's parents, as they took her on adventures constantly when she was a child. If you have a dog, Kate will more than likely say hello to the dog first (don't be offended, her sister is like that too). Kate is also known for singing to every 80's song whether she knows the words or not. She also has the tendency to tear up when she watches nature shows or looks at pictures of puppies.
Favorite Quote: "Not all those who wander are lost" – Lord of the Rings/JRR Tolkien.
Fun Fact: Pam Dawber from Mork and Mindy is a distant cousin.
Favorite Spot Visited: The Gap of Dunloe – Ireland.
Favorite International Food: Does Scotish Shortbread count?
Favorite Road Trip Song: Dropkick Murphy's – I'm Shipping Up To Boston
---
Bella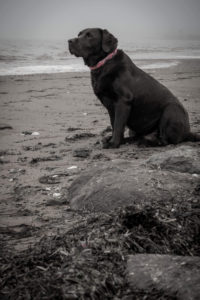 Coco Bella McCallum-Doolittle (aka Bella) is originally from Plaster Rock, New Brunswick. Bella spent the first 5 years of life living with another wonderful family with her canine companion Jed. Bella is a chocolate lab that is obsessive about: playing ball, eating and sleeping. Since coming to live with Adam and Kate, she pretty much rules their lives and they love her to bits.
Favorite Quote: "Be the person your dog thinks you are" -J.W. Stephens
Fun Fact: Bella can shake both paws at the same time.
Favorite Spot Visited: North Rustico – PEI
Favorite Vegetables: Sweet Potato, Pumpkin, and Beets
Favorite Road Trip Song: Neil Young – Old King
---
Paris Frances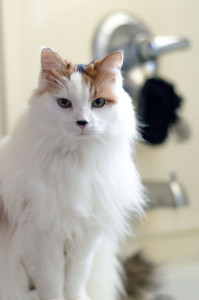 Paris Frances was born in Ontario. She is long haired Calico and was pretty much feral when adopted by Kate. Adam came into her life and Paris Frances has now become a very loveable cat. She does, however, have quite a temper. She does not like Bella, sudden movements, other cats, any types of canned food that are not pate, and the cold. She loves her Grandma M and having her ears scratched.
Favorite Quote: "People that hate cats will come back as mice in their next life" – Faith Resnick
Fun Fact: Paris snores louder than Bella
Favorite Spot Visited: Any lush meadow
Favorite Treats: Tuna and chicken liver
Favorite Road Trip Song: Stray Cats – Stray Cat Strut
---
Contributors
Full Time Canada is happy to have a small team of contributors that allow us to keep the site fresh with all sorts of helpful articles for RVers. If you're interested in contributing to Full Time Canada contact us at info@fulltimecanada.ca
Greg Walker
Greg Walker was born and raised in Thornhill, Ontario, and attended the Ontario College of Art and Design and the University of Guelph. His first RV experience came at age 6, when his parents purchased a used trailer and the family spent the entire summer at a campground near Peterborough, Ontario. It was there that he first gained an appreciation for nature and the environment. Later, he hiked and camped extensively, and did volunteer work for the Bruce Trail Association and his local municipal Environmental Advisory Committee.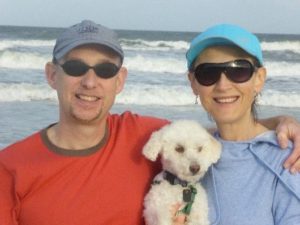 He and his wife Lori are new to RV'ing, and while not full-time RV'ers (yet), they are embracing the lifestyle as they travel in ever-widening circles with their 18-ft travel trailer. They live in Caledon Ontario, where they enjoy all four seasons with their dog, Rambo.